Fleet Tracking Player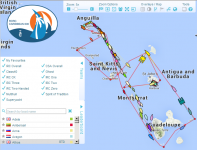 Competing Boats in the 2017 RORC Caribbean 600 Race are equipped with tracking beacons by YB Tracking.
Click here to open the tracking application
Ranking Page
The rankings are available within the player application on the "Leaderboard". A separate, "lightweight" HTML Version is available here.
Click here to open the Leaderboard.
Lightweight options (Text-only or HTML leaderboard, Expedition/MaxSea format)
For slow or mobile connections, there are a range of lightweight options available here: http://yb.tl/links/C6002016
Google Earth File
A Google Earth file will be available on http://yb.tl/C6002016.kml
---