On the fifth day of the RORC Caribbean 600 all of the IRC Classes have been decided and plenty of teams that have finished the race are enjoying the hospitality of Antigua's beaches, bars, and restaurants. Seven boats are still racing with a big incentive; to make tonight's RORC Caribbean 600 Closing Party at the Antigua Yacht Club.
IRC Zero
RORC Vice Commodore Eric de Turckheim racing NMD54 Teasing Machine (FRA) has won the highly competitive class placing second overall under IRC to Pyewacket 70.Second in IRC Zero and fourth overall was Kate & Jim Murray's Pac52 Callisto (USA). Third in IRC Zero and fifth overall was Frederic Puzin's Ker 46 Daguet – 3 Corum (FRA).
"The Caribbean 600 is one of the most fantastic 600 mile races in the world, it's non-stop action with plenty of wind," commented Eric de Turckheim. "The whole RORC fleet is an amazing sight at the start with such a variety of boats in one race: Volvo 70s, Classics like Pen Duick VI and the Class40s. This year we had a fantastic battle in IRC Zero with four highly competitive boats that Teasing Machine was in contact with all the time. We finished within 30 minutes of each other, that is exciting as well as the sailing itself. Callisto sailed really well and was always a threat. Further back because they are 46ft was Daguet, in the last race they beat us, this year we beat them. So well done to Callisto and Daguet for making this class very hard to win."
Teasing Machine Crew: Eric de Turckheim, Laurent Pages, Aymeric Chappellier, Alexandre de Girval, Bertrand Castelnerac, Christian Ponthieu, Gabriele Olivo, Jerome Teillet, Paco Lepoutre, Quentin Bouchacourt, Quentin Le Nabour, Tony Brochet.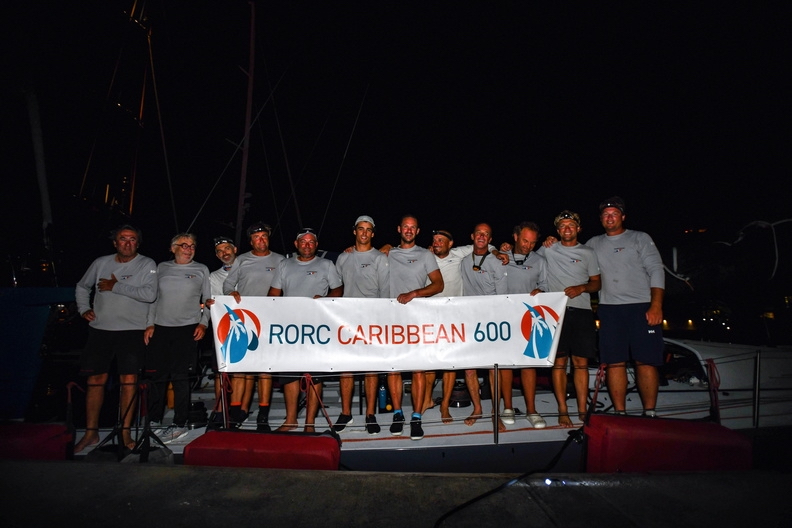 The team on Eric de Turckheim's Teasing Machine after finishing the RORC Caribbean 600 © James Tomlinson/RORC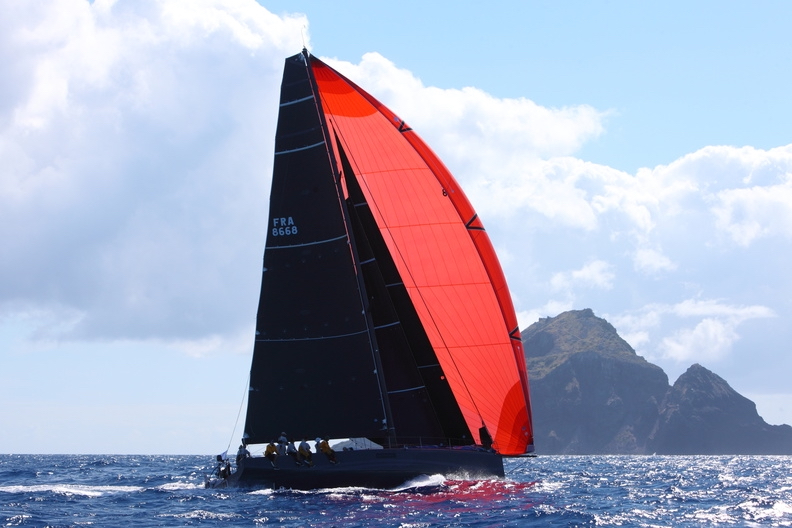 Teasing Machine at Redonda © Tim Wright/Photoaction.com
IRC One
Dan Litchfield's Classic Hound (USA) put in a great last beat from Redonda to the finish to win IRC One. The Aage Nielsen 59 sloop was built in 1970, the oldest boat in the race. Laurent Courbin's First 53 Yagiza (FRA) skippered by Phillippe Falle was second by just 24 minutes after IRC time correction. In third place was Andrew & Sam Hall's Lombard 46 Pata Negra (GBR), just six minutes behind Yagiza after IRC time correction.
"We got pushed really hard by the other boats in our class, somehow we pulled it out at the end and it feels great," commented Hound owner Dan Litchfield. "It was only when we were rounding Redonda that we thought the win was possibly for real and then we sailed right into a wind hole BUT it picked up again and we were back in business. The Hound crew is the best I have ever sailed with." Dan Litchfield was quick to praise two long standing RORC members on the Hound crew. "A big thank you to Ed Cesare who did a great job as navigator and Richard du Moulin for superb preparation. The RORC Caribbean 600 is our big race of the season, Hound will be heading back to Newport Rhode Island and I know our two daughters will have missed cruising her, as we will do in the summer."
Hound crew: Tom Stark, Adam Klyver, Chris Murray, Daniel Litchfield, David Rosow, Devin Santa, Edward Cesare, Glenn Cook, Jason Black, Lyndsey Gibbons-Neff, Nicholas Horbaczewski, Owen Johnson, Peter McGrath, Rich du Moulin, Sumner Fisher, Taylor North
IRC Two
Peter McWhinnie's JPK 1080 In Theory (USA) has won IRC Two by just under two hours from J/133 Vamoose (USA) skippered by Bob Manchester. Andy Middleton's First 47.7 EH01 (GBR) was third.
"It feels fantastic, it has been great to get around the course with a wonderful crew, I can't thank them enough. It is an all-round crew we all drive and trim and the work has been outstanding," commented In Theory's Peter McWhinnie. "It was a relief to get through the last beat as the wind got a little fluky and make the finish which was a very happy moment. One of the highlights of this race has been the close competition from other boats, we were always mixing it up with Vamoose, J Bella and EH01. There were a lot of great moments and a lot of hard sailing; it was pretty full on. The run down to Nevis from Barbuda on the first night was really beautiful. Compared to 2020, this time we passed most of the islands during day time which was nice and an incentive to come back and do it again."
In Theory Crew: Peter McWhinnie, Com Crocker, Erin Sprague, John Slattery, Peter Fackler, Simon Karstoft Jensen.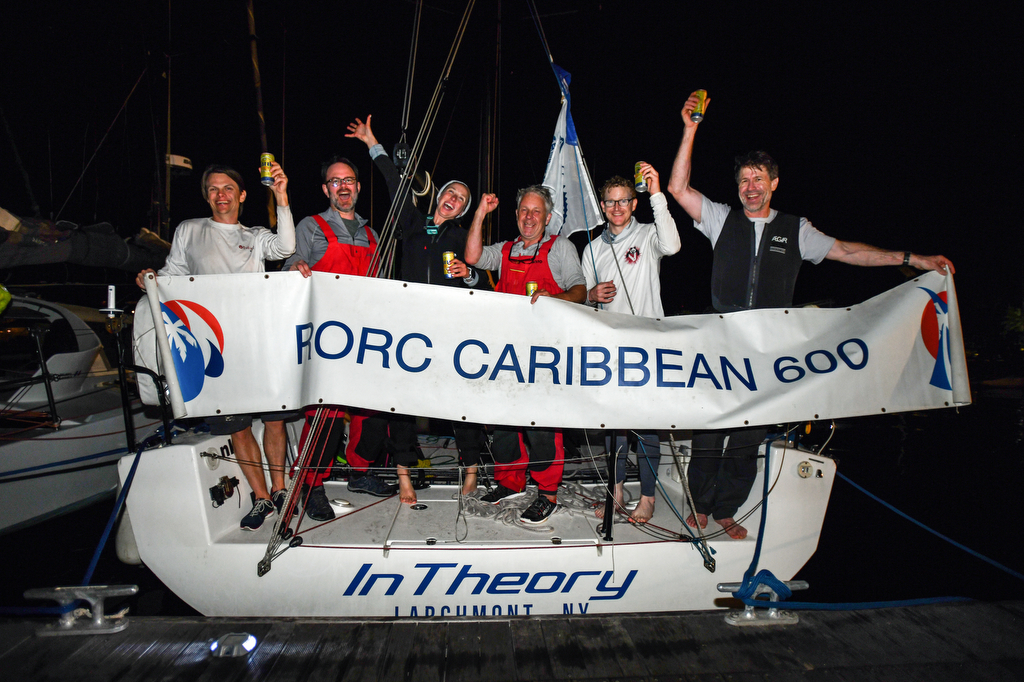 Peter McWhinnie's JPK 1080 In Theory (USA) has won IRC Two in the RORC Caribbean 600 © James Tomlinson/RORC
Still out racing at 08:10 AST on Friday 24th February: Bluejay of Portsmouth, Escapado, Montana, Spirit of Venus, Purple Mist, Hultaj, Charisma. The magnificent seven are hoping to make the spectacular closing party. L'Esprit d'Equipe, Lifgun and Discoverer Of Hornet have already started the party!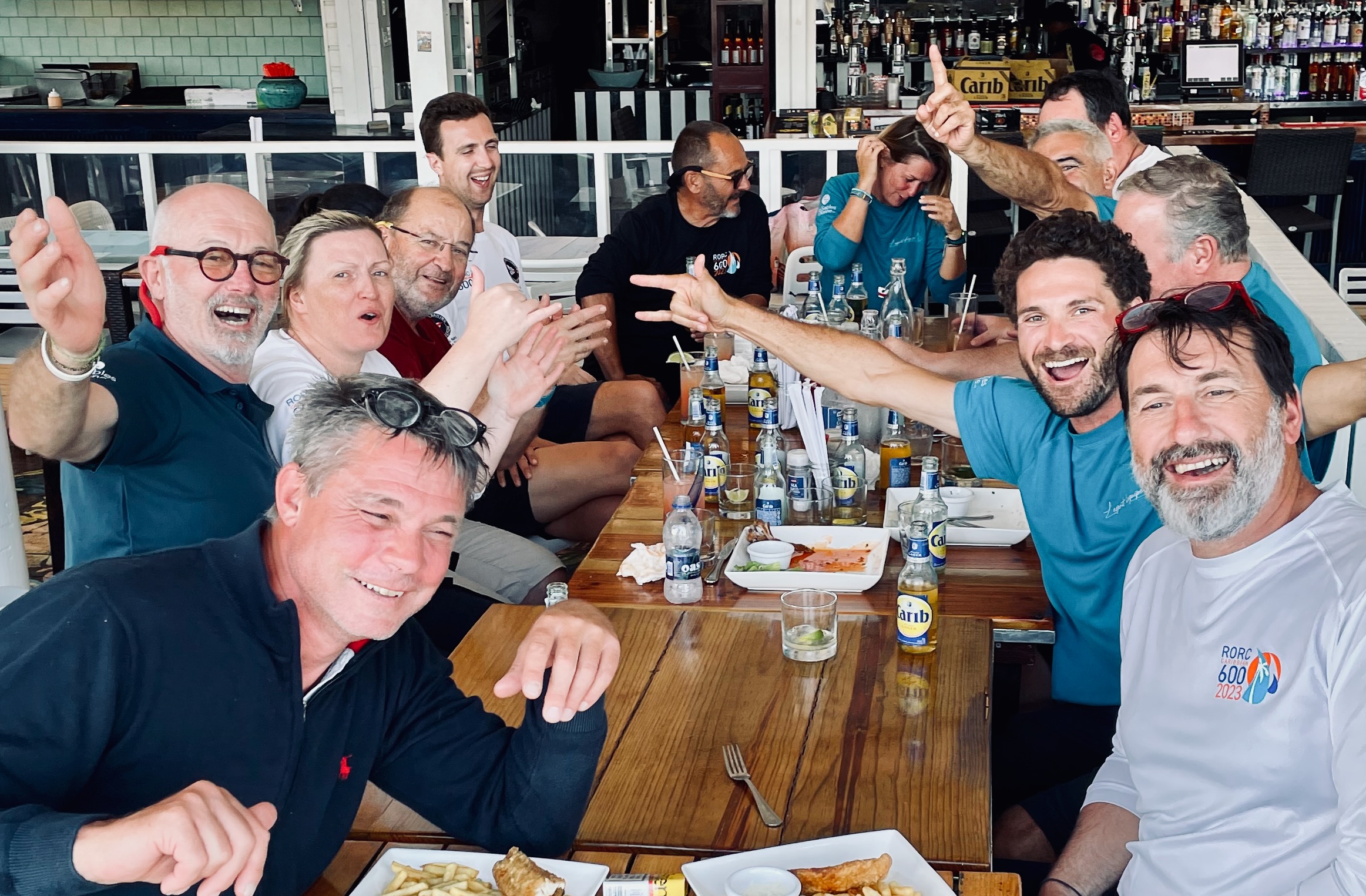 Peter McWhinnie's JPK 1080 In Theory (USA) has won IRC Two in the RORC Caribbean 600 © RORC
---