The hiatus is over - the RORC Caribbean 600 is back and set to start in Antigua on February 21st, 2022. Early entries include teams representing a dozen different countries from around the world.
The RORC Caribbean 600 is a race for all, enticing the fastest boats on the planet and passionate corinthians racing performance racer/cruisers and classics. A full house is expected for the bold and beautiful 600-mile race around eleven Caribbean islands.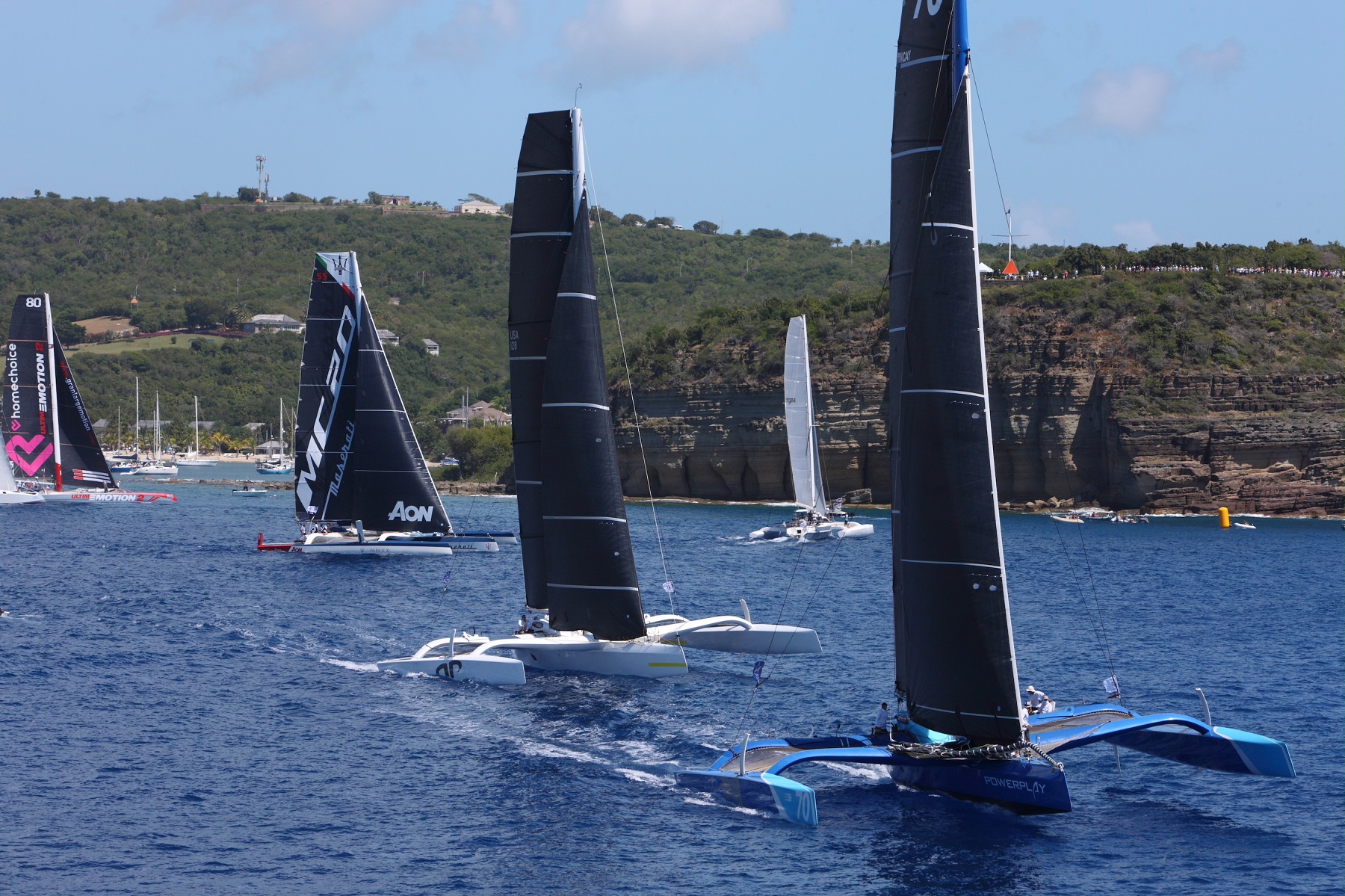 An astonishing pack of multihulls will be ripping through the course, including the race record holder Maserati Multi70 © Tim Wright/Photoaction.com
An astonishing pack of multihulls will be ripping through the course, including the race record holder Maserati Multi70. The flying Italian stallion is skippered by Giovanni Soldini. The reigning class champion, and 2020 Line Honours winner, Cayman Island's Peter Cunningham will be racing MOD70 PowerPlay. The multinational team, skippered by Ned Collier Wakefield, is set for a stout defence of their title. Back for another bite at the apple is Jason Carroll's American MOD70 Argo with multiple record holder Brian Thompson on the team sheet. Antoine Rabaste and Jacek Siwek will be taking part in their second race with the largest multihull in the fleet, the French 80ft Maxi Multi Ultim'Emotion 2.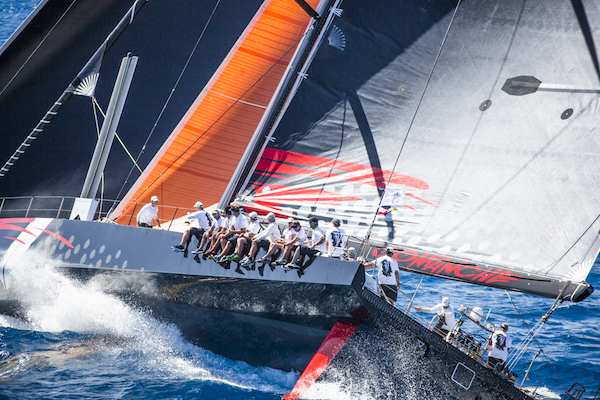 Potential Monohull Line Honours favourite - the 100ft Supermaxi Comanche © ELWJ Photography
Of the expressions of interest so far, favourite for Monohull Line Honours is the 100ft Supermaxi Comanche, with a triple-A crew skippered by Australian Mitch Booth. The VPLP-Verdier 100 last competed in the race in 2016, finishing in just over 40 hours. Given solid trade winds for the race, Comanche is very capable of beating the Monohull Race record, set by George David's American Rambler 88 in 2018 (37 hours 41 minutes and 45 seconds). Of the current entries, the biggest threat to Comanche will be the boat that set the original record, the Farr 100 Leopard 3 back under new ownership.
The overall winner and individual class winners for the RORC Caribbean 600 are decided by IRC time correction. Tilmar Hansen's German TP52 Outsider is expected to be defending their overall win in 2020. Outsider races in IRC Zero which is shaping up to be a real battle of the titans and, more often than not, the winner of the RORC Caribbean 600 Trophy comes from the big boat class.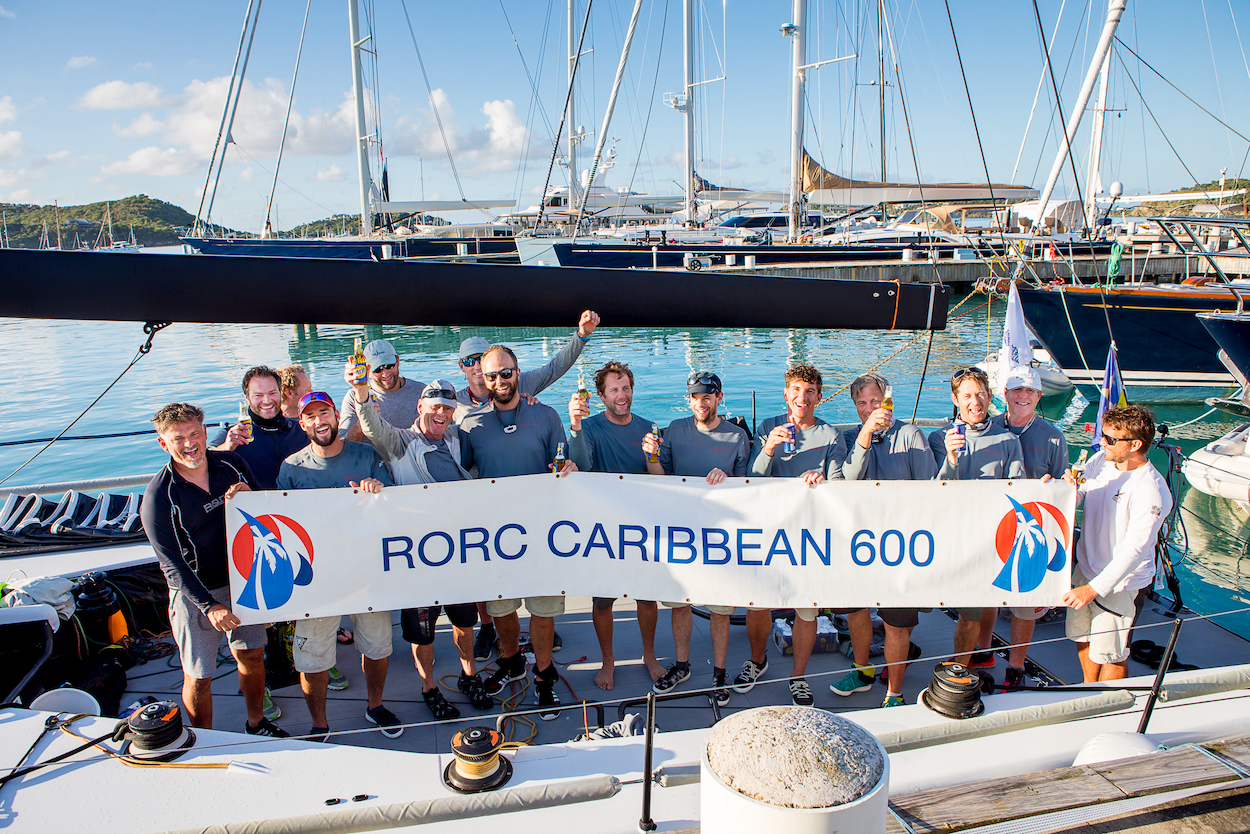 Tilmar Hansen's German TP52 Outsider is defending their overall win in the 2020 RORC Caribbean 600 © Arthur Daniel/RORC
David Collins' British Botin IRC 52 Tala came second overall in 2019 and can match Outsider all the way around the course. From Larchmont YC USA, Christopher Sheehan will be racing Pac52 Warrior One, class winner of the 2021 Transpac Honolulu Race. Two new designs will make their debut in IRC Zero. German skipper Stefan Jentzsch has competed in the race on many occasions, but this will be the first RORC Caribbean 600 for IRC 56 Black Pearl with a multinational team, including South African Marc Lagesse. The Infiniti 52 Zeus will also be making its race debut. Boat Captain Matt Brushwood confirms that the carbon 52ft yacht is close to completion in the USA. A principal design feature is transverse DSS foils.
Irishman Adrian Lee has had a love-affair with the RORC Caribbean 600 since his overall win in the inaugural race. Adrian will be racing Lee Overlay Partners, hoping for strong breeze to suit the Swan 60. Talking of love-affairs with the RORC Caribbean 600, Antiguan Bernie Evan-Wong has competed in all-twelve past editions and will be back for another with his Reichel Pugh 37 Taz. Pamala Baldwin's J/122 Liquid will also be flying the Antiguan flag with a young crew.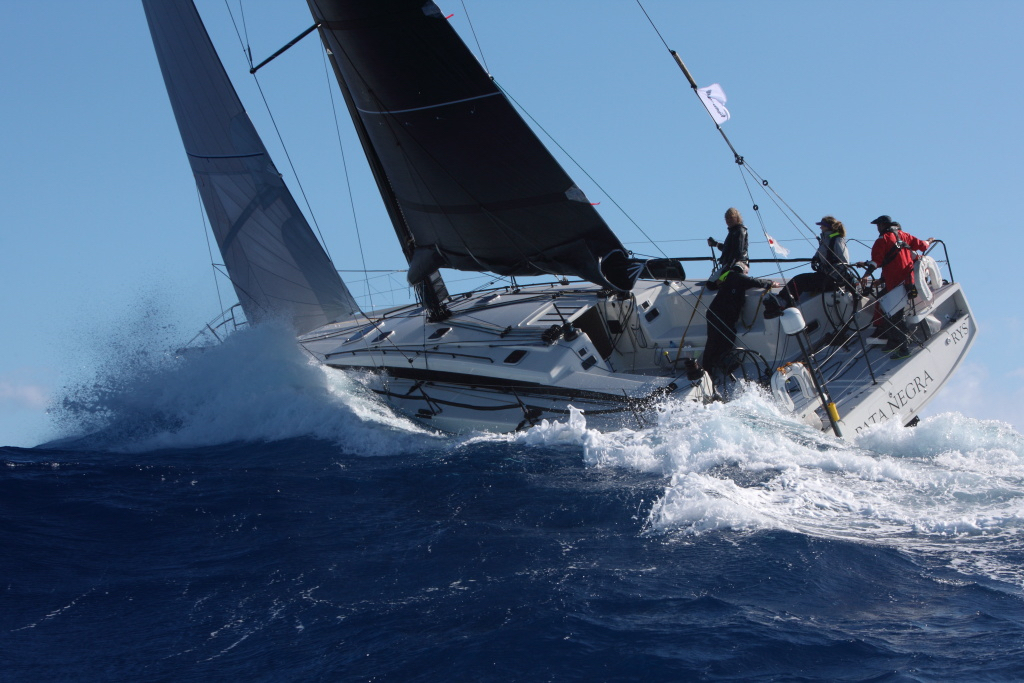 Winner of IRC one in the last edition - the Lombard 46 Pata Negra has competed in the past four editions © Tim Wright/Photoaction.com
British interest in the 2022 RORC Caribbean 600 is as strong as it has ever been with four top boats making their race debut. The overall winner of the 2021 Rolex Fastnet Race, Tom Kneen's JPK 1180 Sunrise is confirmed, as is RORC Commodore James Neville's HH42 Ino XXX, second overall in the Rolex Fastnet Race. Ed Bell's JPK 1180 Dawn Treader will be making its debut, as will Christopher Daniel's J/122 Juno. Lombard 46 Pata Negra has raced in the past four editions and won IRC One in the last race. Now under the ownership of Andrew Hall, Pata Negra is back for a fifth race. Taking on the RORC Caribbean 600 with its multitude of manoeuvres is a real challenge for Two-Handed teams. Richard Palmer's JPK 1010 Jangada and Tim Knight's Pogo 12.50 Kai are amongst the early entries.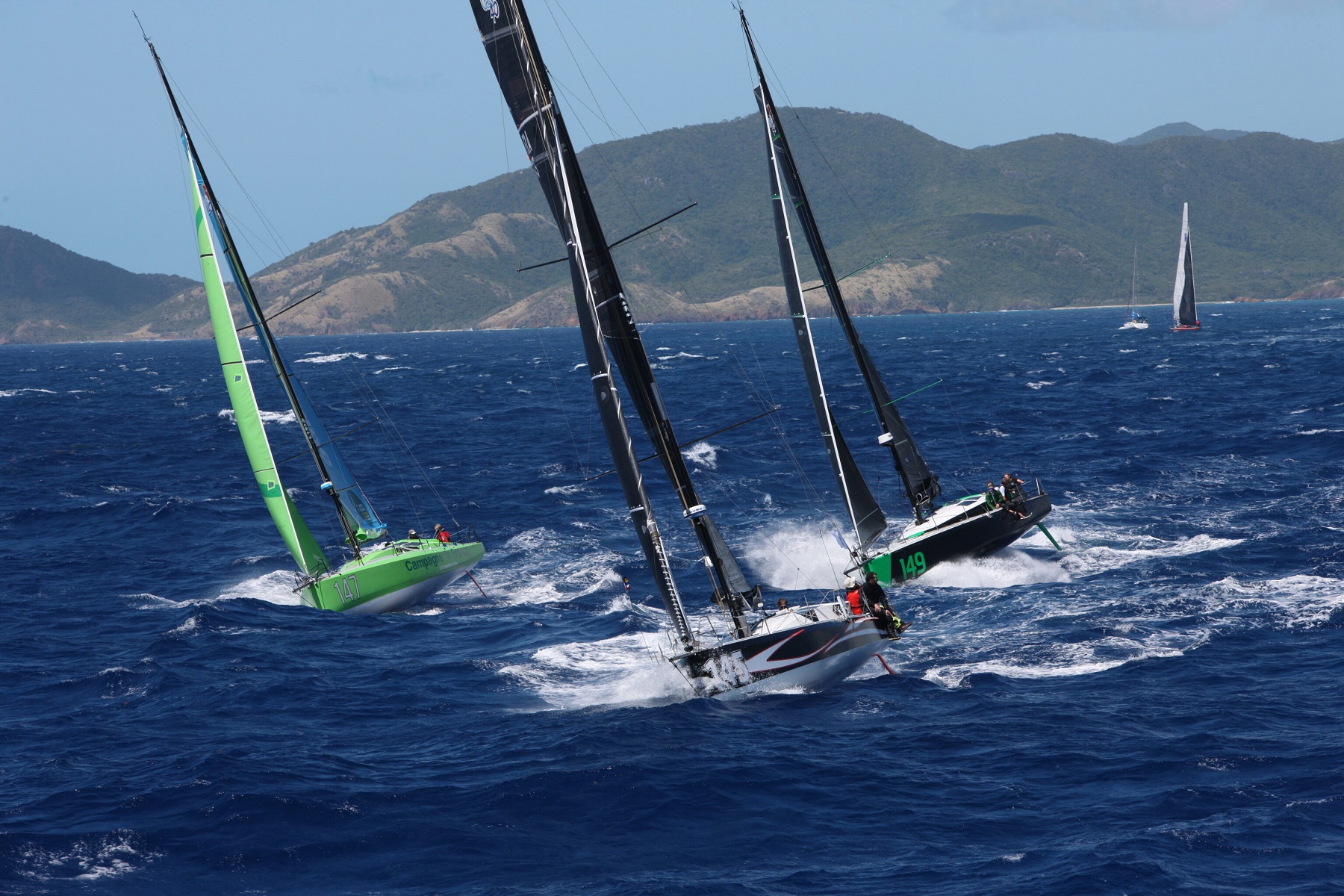 Around 10 Class40s are expected to be on the start line of the 2022 RORC Caribbean 600 © Tim Wright/Photoaction.com
French interest for the 2022 edition include new boats to the race and around 10 Class40s are expected to have a re-run of the fantastic battle in 2019. Racing Under IRC will be Jean Pierre Dreau's Mylius 60 Lady First 3, which was fourth in class for the 2021 Rolex Fastnet Race and Remy Gerin's Spirit of Tradition Classic Faiaoahe. Jacques Pelletier's Milon 41 L'Ange de Milon, Laurent Courbin's First 53 Yagiza, skippered by Philippe Falle, and Dominique Tian's Ker 46 Tonnerre de Glen will also be competing. While this is the first race for the all-French crew, as Tonnerre de Breskens, the boat has won class on two occasions. In the MOCRA Class Christophe Cols' French F40 Chaud Patate is set for a return to the race having last competed under previous ownership as Dauphin Telecom – Johnny Be Good in 2014.
Lance Shepherd's Telefonica Black will be racing with charter guests, as will Jens Lindner's HYPR Ocean Racing Team. It is difficult to imagine a more thrilling experience for Corinthian sailors than ripping around the RORC Caribbean 600, competing against the professional teams in a Volvo 70! Ondeck Antigua's Farr 65 Spirit of Juno will also compete with charter guests and will be under the guidance of Paul Jackson in his seventh race.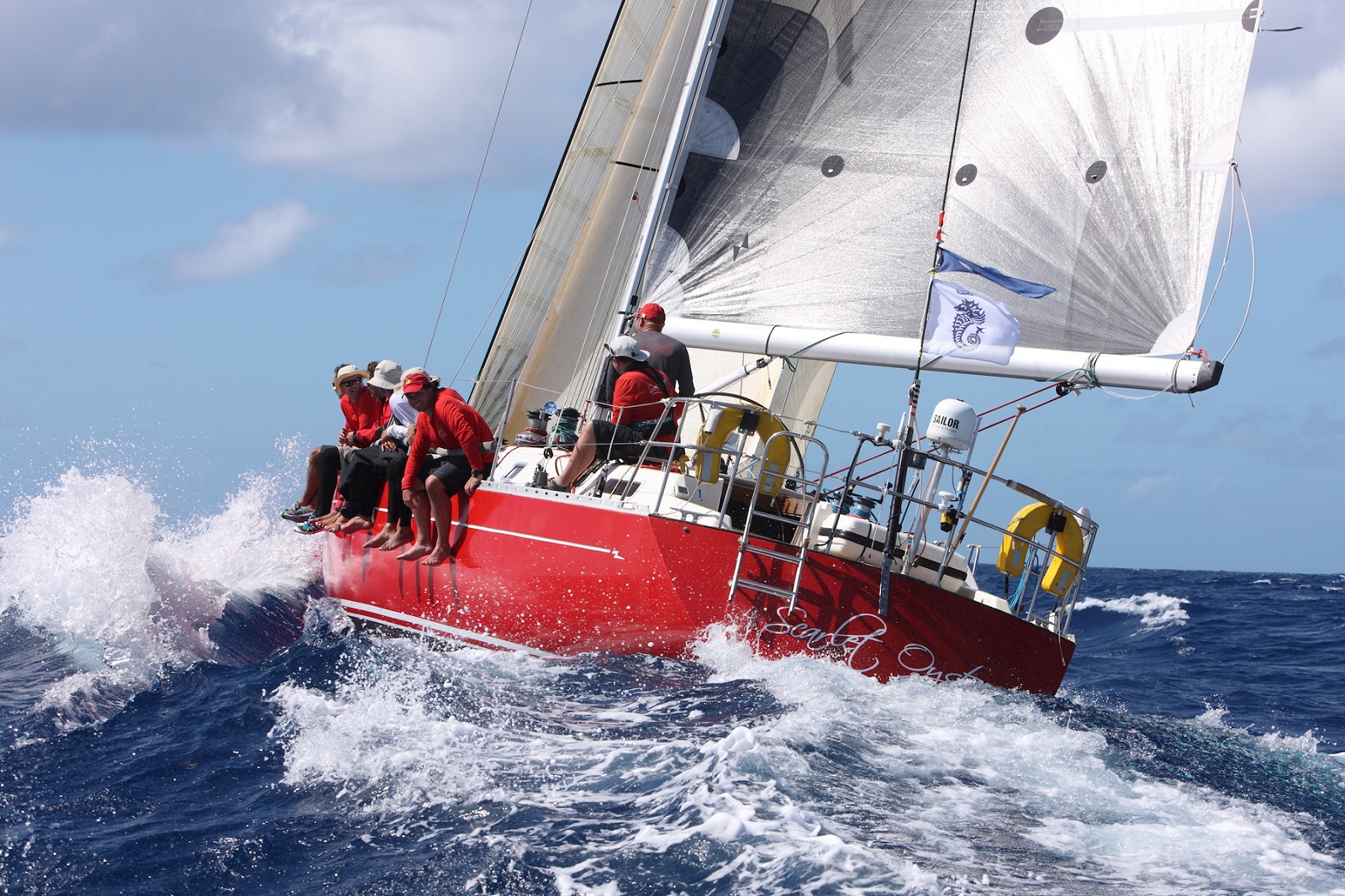 Ross Applebey will be competing in his 9th RORC Caribbean 600 with his Oyster 48 Scarlet Oyster © Tim Wright/Photoaction.com
Ross Applebey will be taking part in his ninth race, skippering Oyster 48 Scarlet Oyster which has won class on seven occasions. Scarlet Oyster's long, friendly rivalry will continue with Andy Middleton's First 47.7 EH01. Two First 40s will be adding a chapter to their long history in the RORC Caribbean 600. Susan Glenny, taking part in her fifth race, will be racing on Olympia's Tigress with a Californian crew. Yuri Fadeev will be on race number six, racing Optimus Prime with a crew from St. Petersburg Russia.
Canadian teams replacing frozen seas for the warmth of the tropics will be J/121 Wings, skippered by American Bill Wiggins, and Ray Rhinelander from the Royal Newfoundland Yacht Club racing J/133 Bella J. Morgen Watson and Meg Reilly will co-skipper Pogo 12.50 Hermes with a multinational crew and this will be the fifth race for the Canadian boat. Jonas Grander's Swedish Elliott 44 Matador is also returning for another tilt and will be competing in the highly competitive IRC One Class.
Entries & expressions of interest: here
Notice of Race: here
---