Wednesday 22 February at 06:05:06 AST
Roy P. Disney's Pyewacket70 (USA) has taken Monohull Line Honours in the 2023 RORC Caribbean 600 in an elapsed time of 42 hours 45 mins 06 secs. Two generations of the Disney family have raced boats under the Pyewacket name. The latest Pyewacket 70, is a turbo-charged Volvo 70 with a taller mast, lighter hull and deeper keel than the original box-rule. Pyewacket 70 is the fastest of Disney dynasty and the first to take Monohull Line Honours in the RORC Caribbean 600.
Pyewacket 70 Crew: Ben Mitchell, Peter Isler, Tony Mutter, Brad Jackson, Brian Janney, Daryl Wislang, David Tank, Jan Majer, Mark Callahan, Matt Mialik, Robbie Kane, Rodney Daniel, Tristan Louwrens.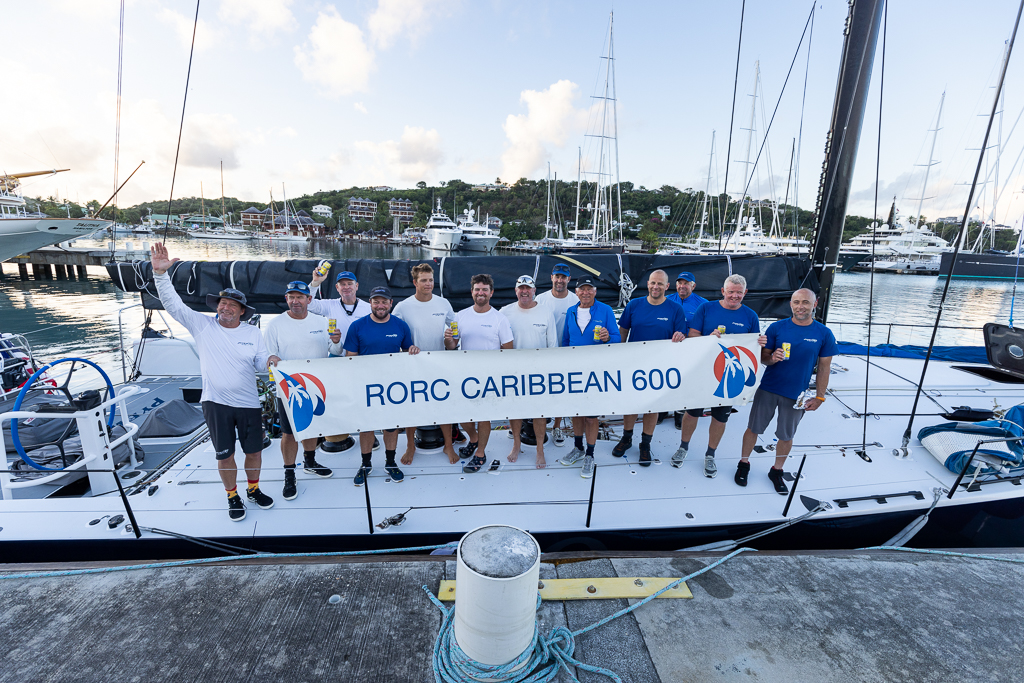 Ben Mitchell was the stand-in skipper for Roy Pat Disney who was not on board due to knee surgery. Ben has always been part of the Pyewacket family ever since Roy Disney started it in 1989. The first Pyewacket was a 74ft sloop which set the race record for the 1999 Transpac. Pyewacket was named after the witch's cat in the film Bell, Book and Candle, which inspired Walt Disney to create Mickey Mouse in 1928.
"RP (Roy Pat Disney) thank you for letting us take your toy and racing the Caribbean 600 in a successful manner. We are so disappointed you are not with us to enjoy this spectacular victory," commented Ben Mitchell. "The real wow factor is that Pyewacket 70 was here for the RORC 600 and this team is so good. We had a great mix of crew that know this course very well, and crew like me who experienced this wonderful race for the first time. Each leg is like a race in itself, which keeps everybody going, but on a boat like Pyewacket 70 those legs become very short. Getting any sleep is a challenge as the whole crew is up for every manoeuvre."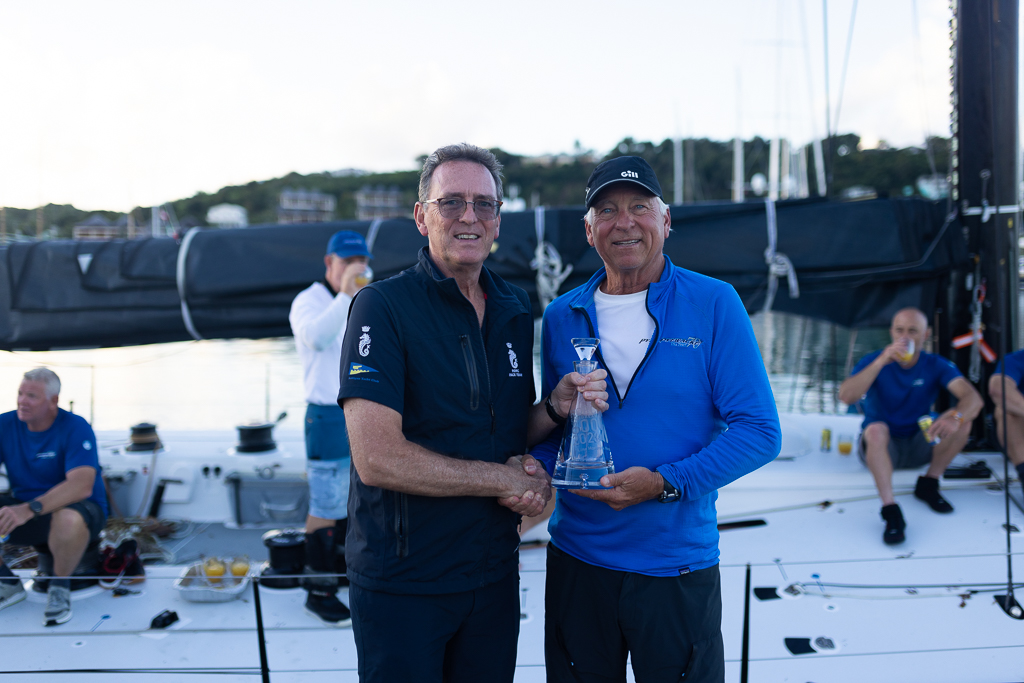 Pyewacket 70RORC CEO Jeremy Wilton presents skipper Ben Mitchell with the Monohull Line Honours trophy © Arthur Daniel/RORC
Pyewacket 70's navigator was America's Cup winner Peter Isler. This was Peter's fifth race, including winning the triple (IRC Overall, Class and Monohull Record) on George David's Rambler 100 in 2011.
"The name of the game for the navigator is to study the weather and the nuances in this race are so different. When you get out there all your expectations can be blown," commented Peter Isler. "I had pre-conceptions of what the tactics are at different points in the race and I will say at least half the time I was wrong! In this race you have to keep your eyes open and understand the fundamentals of weather and be ready to adjust to the changes. A great example was going through the lee of Guadeloupe; it is the big X-Factor in this race and a total nightmare for navigators. It seems so random as to where you go to get through that wind-hole and this year was unlike any other experience I have had going through the lee."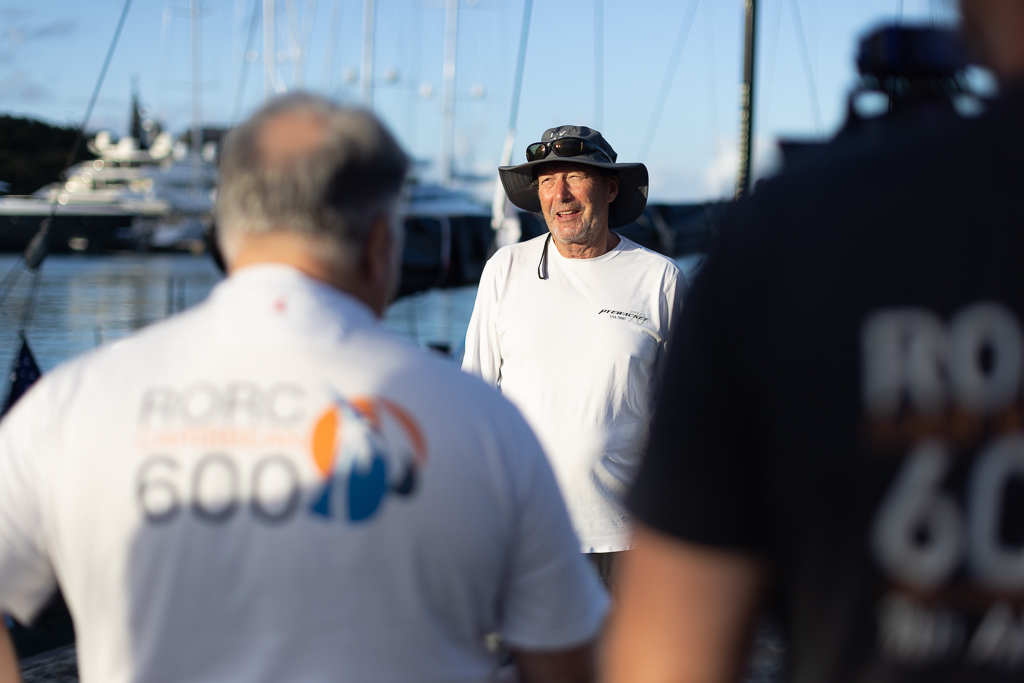 Peter Isler - navigator on Volvo 70 Pyewacket 70 © Arthur Daniel/RORC
Pyewacket crew Brad Jackson commented: "With the wind north of east we expected the wind shadow to be further forward at Guadeloupe, but in reality that was not the case and we really slowed down there. The sargassum weed was also a factor, but Pyewacket 70 is equipped with weed cutters and they worked well in this race. We stopped behind Guadeloupe three times, but not for very long, so that did not cost us too much in the race."
The next monohull to finish the RORC Caribbean 600 is Volvo 70 I Love Poland (POL), skippered by Grzegorz Baranowski. Pyewacket 70 has set the bar for the overall win under IRC for the RORC Caribbean 600 Trophy. The vast majority of the fleet are expected to finish the race over the next two days.
To follow the race with satellite tracking and regular updates from the competitors and media team go to: www.caribbean600.rorc.org
---