The 14th edition of the RORC Caribbean 600 starts on 20th February at 11:00 AST (UTC-4). Seventy boats from all over the world are ready in Antigua for the non-stop 600nm race around 11 Caribbean islands.
With over 550 sailors from 30 nations taking part, the RORC Caribbean 600 is truly an international affair. On Monday 20th February, the first warning signal will sound at Fort Charlotte for an epic race featuring a highly competitive and varied fleet of IRC Offshore boats, Class40s and Multihulls.
Entry List for RORC Caribbean 600
11:00 AST Start - IRC One & IRC Two
Twenty seven teams racing in IRC One and IRC Two will be first away. The largest start features a bounty of different boats racing under the IRC Rating System.
Among the favourites for IRC One are Andrew & Sam Hall's Lombard 46 Pata Negra (GBR) and Laurent Courbin's First 53 Yagiza (FRA). The highest rated boats in IRC One are two Akilaria 40s designed by Marc Lombard; Stephane Bry's Sirius II (FRA) and Marek Culen & Miroslav Jakubcik's Sabre II (SVK). Jon Desmond's Mills 41 Final Final (USA) is one of the fastest boats in IRC One.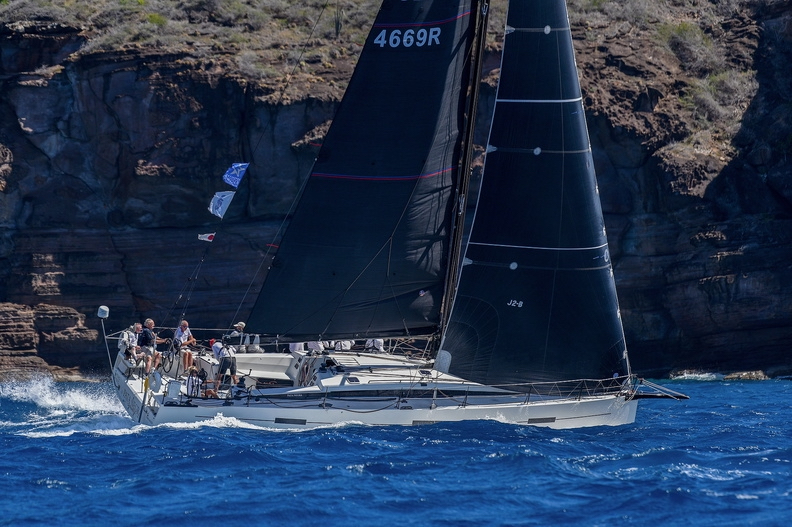 IRC One: Andrew & Sam Hall's Lombard 46 Pata Negra (GBR) © Rick Tomlinson
The largest boat in the first start is the famous 73ft ketch Pen Duick VI (FRA), skippered by Marie Tabarly. Two other classics include the Whitbread winner Briand 58 L'Esprit d'Equipe (FRA), skippered by Lionel Regnier and the Nielsen 59 Hound (USA), owned by Tom Stark. Challenger 72 Discoverer of Hornet (GBR) is sailed by the Royal Navy. The smallest boat in IRC One is RP37 Taz (ANT); owner Bernie Evan-Wong has skippered boats in every race. 2009 winning skipper Adrian Lee will be racing his Swan 60 Lee Overlay Partners II (IRL). Antiguan Farr 65 Spirit of Juno (ANT) skippered by David Hanks has the youngest sailor in the race - Emily Guillard is just 15 years-old.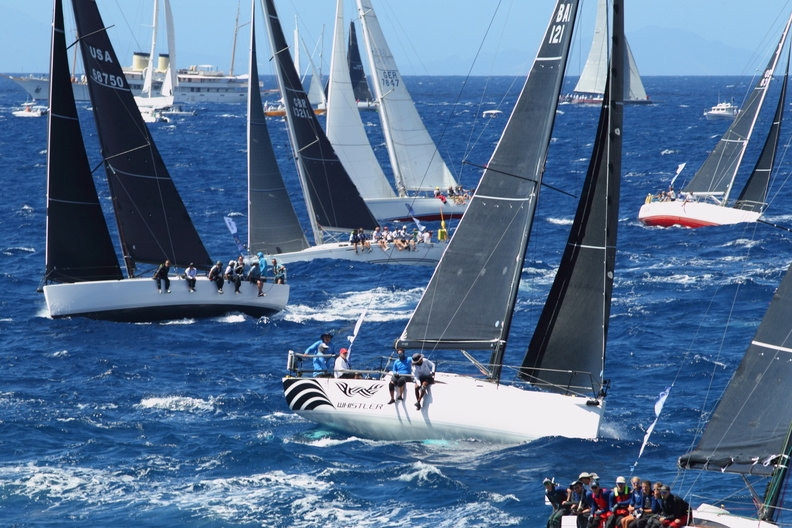 IRC Two: Peter Lewis' all-Bajan team on J/111 Whistler (BAR) © Tim Wright/Photoaction.com
Among the favourites for IRC Two are Peter Lewis' all-Bajan team on J/111 Whistler (BAR) and Peter McWhinnie's JPK 1080 In Theory (USA), which was a class winner and third overall in 2020. Bob Manchester's J/133 Vamoose (USA) was in fine form winning class in the Antigua 360 Race, part of the new RORC Nelson's Cup Series. The largest boat in IRC Two is Clipper 60 Bluejay of Portsmouth (GBR) skippered by Andy Young.
The smallest boat in the race is Szymon Kuczynski's Figaro One Hultaj (POL), which is one of five teams racing in IRC Two-Handed. Kate Cope's Sun Fast 3200 Purple Mist will also be in the first start. Kate is racing with co-skipper Claire Dresser; the first all-women double-handed team to finish the RORC Transatlantic Race.
11:10 AST Start - IRC Zero & Class40
Twenty five boats will be in the second start featuring 10 carbon-fibre IRC weapons and a record entry of 13 hi-tech Class40s. A truly international spectrum with boats from 13 different countries.
Race pundits are predicting an overall winner under IRC coming from IRC Zero, but which boat will lift the RORC Caribbean 600 Trophy is far from certain.
Vice Commodore Eric de Turckheim's Teasing Machine (FRA) is among the favourites having won the RORC Transatlantic Race and the Rolex Middle Sea Race. The fastest rated boat under IRC in the second start is the Botin 56 Black Pearl (GER) skippered by Stefan Jentzsch. Niklas Zennstrom's CF520 Rán 8 (SWE) is rated the second fastest under IRC, and third highest is Arto Linnervuo's Infiniti 52 Tulikettu (FIN).
The largest boat in this year's race will be in the second start; Tod Stuart's Swan 82 White Rhino (USA). The two smallest boats in IRC Zero are RORC Commodore James Neville's HH42 Ino XXX and Frederic Puzin's Ker 46 Daguet 3 – Corum (FRA). Kate & Jim Murray's Pac52 Callisto (USA) and Evans & Sheehan's JV52 Hooligan will definitely be in the mix, as will the lightweight canting keel flyer Henry de Bokay's Elliott 52 Rafale (GER).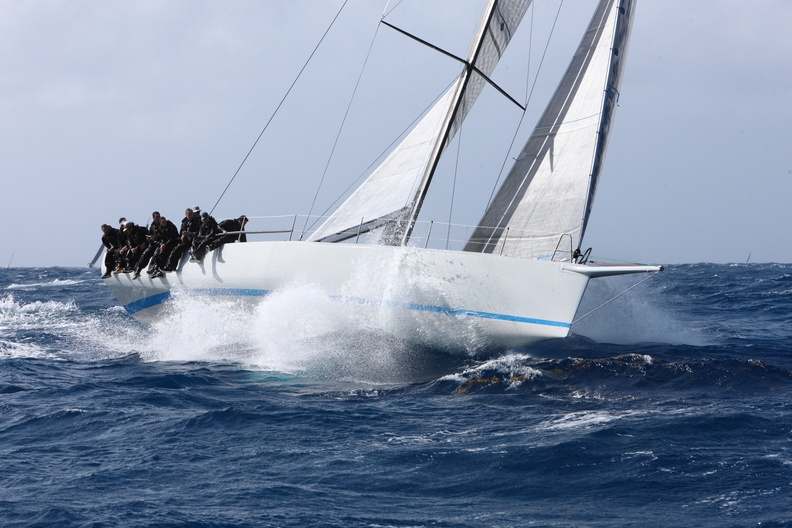 IRC Zero: Botin 56 Black Pearl (GER) skippered by Stefan Jentzsch © Tim Wright/Photoaction.com
A record entry of 13 Class40s will be blasting off in the second start of the RORC Caribbean 600, including some of the latest designs of the pocket-rocket flying machines. The Class40 Race Record was set in 2018 by Catherine Pourre's Eärendil (FRA): 61 hours, 0 minutes, 15 seconds. Racing under Class40 rules, the first Class40 to finish the RORC Caribbean 600 will be the winner of the Concise Rum Barrel, suitably filled.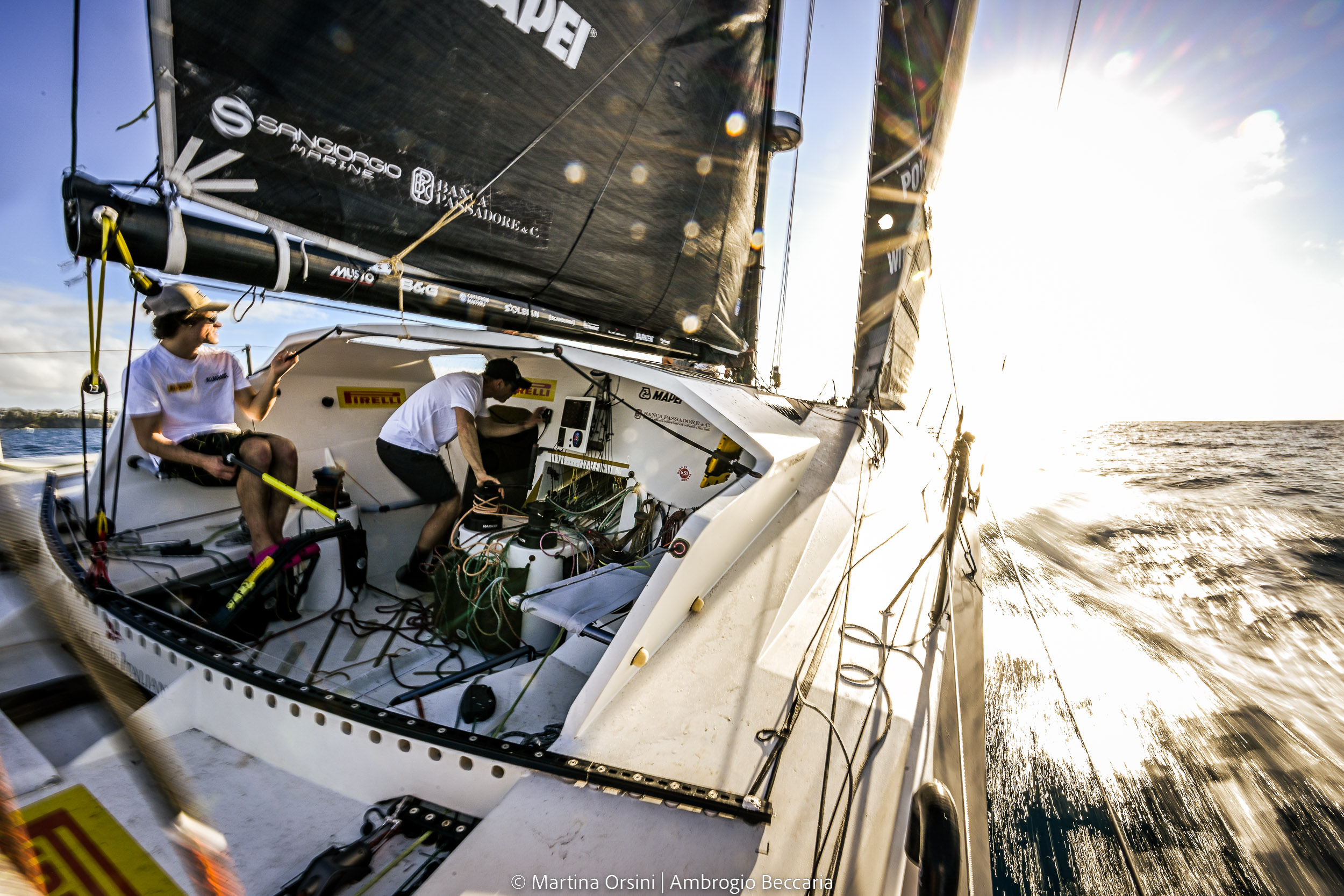 Class40: Ambrogio Beccaria's Alla Grande – Pirelli (ITA) © Martina Orsini
Marc Lepesqueux's Lombard Curium (FRA) and Mach5 IBSA (ITA), co-skippered by Albi Bona and Pablo Santurde are both newly launched boats. Ambrogio Beccaria's Alla Grande – Pirelli (ITA) was second in the 2022 Route du Rhum. James McHugh's Mach4 Tquila (SUI) was fourth in the Route du Rhum, raced by former owner Simon Koster who will be on board. Past race winners include the Verdier-designed BHB (FRA), now raced by Paul Brandel, and the Botin-designed Tales 2 (FRA) now raced by Route du Rhum finisher JB Daramy.
11:20 AST Start - IRC SuperZero
IRC Super Zero promises to be a thrilling shoot-out for seven round the world canting-keel raceboats. Boats competing come from Austria, Spain, Ireland, Lithuania, the Netherlands, Poland and the USA. It is likely that one of these boats will take Monohull Line Honours and maybe, just maybe, win overall under IRC as David & Peter Askew's American Volvo 70 Wizard did in 2019.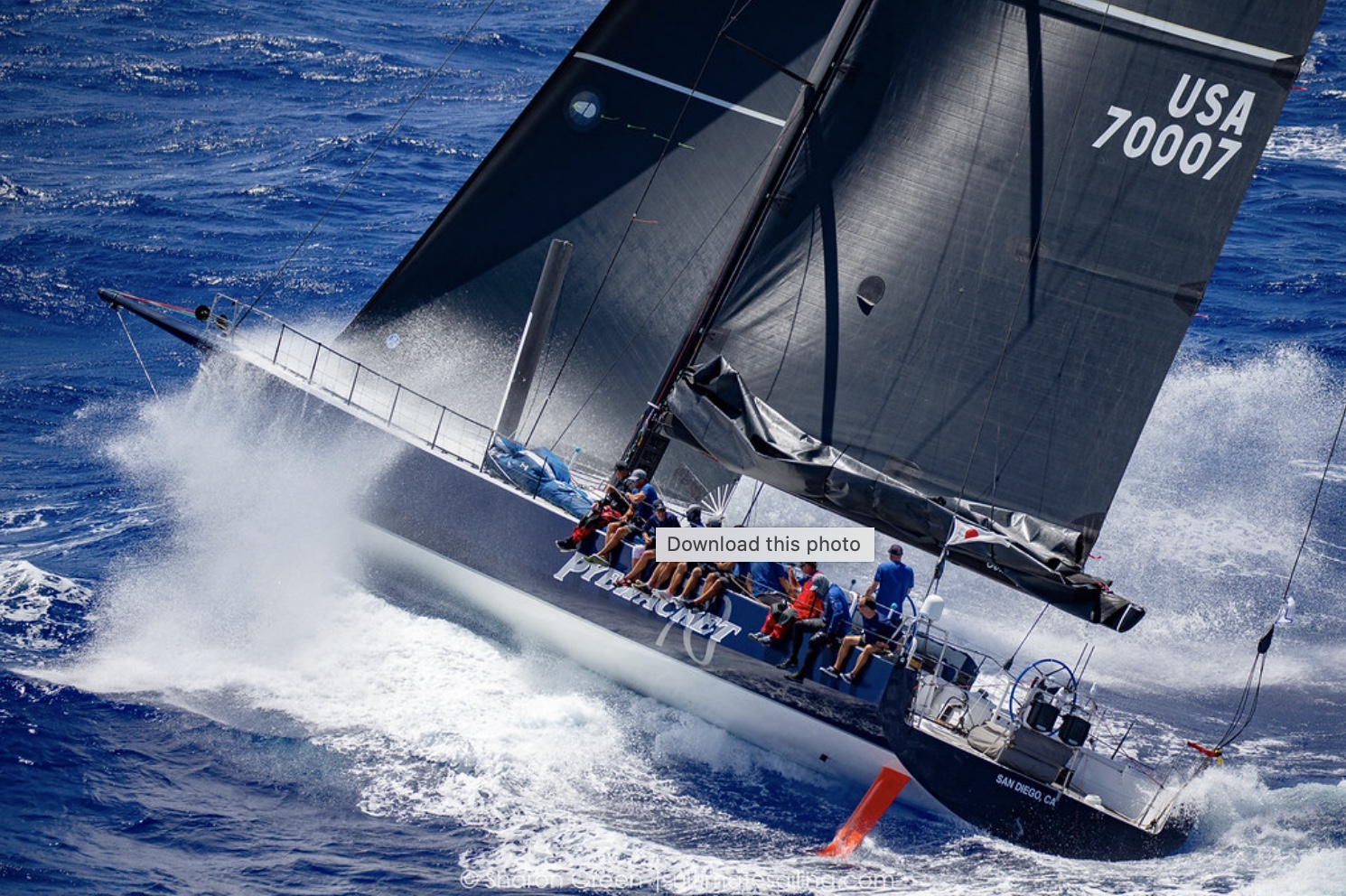 IRC Super Zero: Pyewacket 70 (USA) owned by Roy P Disney © Sharon Green/Ultimate Sailing
The favourite for Monohull Line Honours is the turbo-charged Pyewacket 70 (USA) owned by Roy Pat Disney, which is the highest rated boat under IRC for the RORC Caribbean 600. A close tussle is expected on the water between two Volvo 70s; Jens Lindner's HYPR (ESP) is skippered by Seamus Fitzpatrick, and the all-Polish team on I love Poland (POL), skippered by Grzegorz Baranowski, which took Line Honours in the RORC Transatlantic Race. Johannes Schwartz's Volvo 70 Green Dragon (NED) has 15 RORC members on board, including most of the Royal Ocean Racing Club's main committee.
Three VO65s will have a full-on one design battle as a sabbatical from the on-going race around the world: The Ocean Race. No doubt the battle with the Volvo 70s will also be spicing up the action. Wind Whisper (POL), skippered by Volvo Ocean Race winner Joca Signorini is the leading VO65 in The Ocean Race. Third in The Ocean Race, Sisi (AUT) skippered by Gerwin Jansen is also racing. Ambersail 2 (LTU) has been chartered for the race and skippered by Poland's Przemyslaw Tarnacki.
11:30 AST Start - Multihull
Ten multihulls are the last to start in the 2023 RORC Caribbean 600. Racing under the MOCRA Rule for class honours, there is no doubt that two boats will be lighting the afterburners for Multihull Line Honours and potentially the outright Race Record; Giovanni Soldini's Maserati Multi70 (ITA) and MOD70 Zoulou (FRA) with Erik Maris at the helm. Jason Carroll's Argo set the outright record last year: 29 hours, 38 mins, 44 secs. Maserati and Zoulou are both very capable of setting a new record.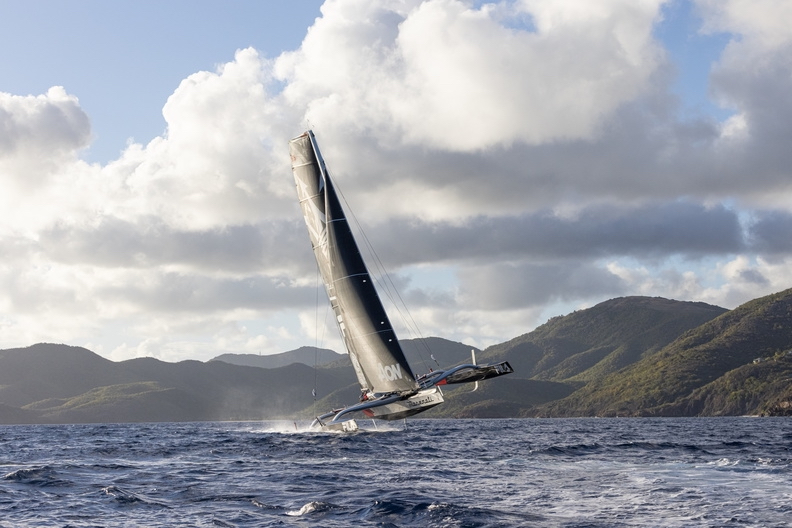 Multihull: Giovanni Soldini's Multi 70 Maserati © Arthur Daniel/RORC
Two Gunboats will be in action; Gunboat 68 Tosca (USA) skippered Alex Thomson is by far the quickest. Gunboat 60 Cui Bono (USA) is owned by race debutant Rob Merwin and skippered by Canadian Freddie Mills. The MOCRA Class features two historic multihulls; Formula 40 Spirit (USA) owned by Bostonian AJ Meyer, and Guy Chester's Lock Crowther trimaran Oceans Tribute (AUS). High Performance multihulls racing include Guyader Saveol (FRA) skippered by Gwen Chapalain, MG5 (FRA) co-skippered by Marc Guillemot and Ben Dale-Jones, Oren Nataf's Pulsar 50 (MON) Rayon Vert, and Vince Willemart's TS42 Banzai (BEL).
To watch the start of the RORC Caribbean 600 LIVE! Tune into the RORC YouTube Channel (www.youtube.com/RORCRACING) from 10:30 AST (UTC-4) Monday 20th February.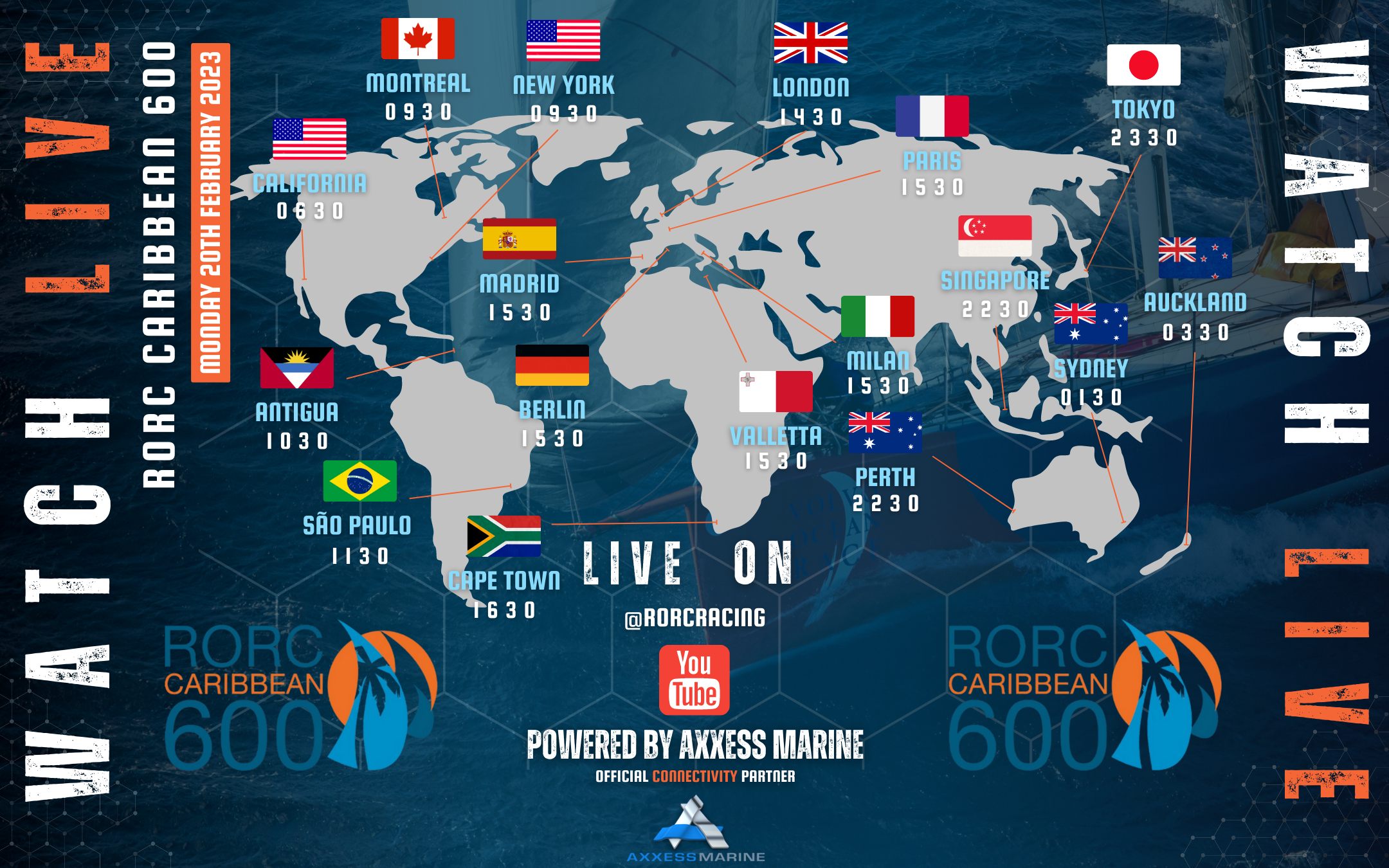 ---