DAY THREE P.M. Report
With line honours decided for both Multihull and Monohull boats in the RORC Caribbean 600, the focus turns onto the Class Winners and the ultimate prize; the Overall Win under IRC for the RORC Caribbean 600 Trophy.
Forty one boats are still racing under IRC and seven under MOCRA. Out in the combat zone, with the overall winner nowhere near decided, competition is fierce for Class and IRC Overall Honours.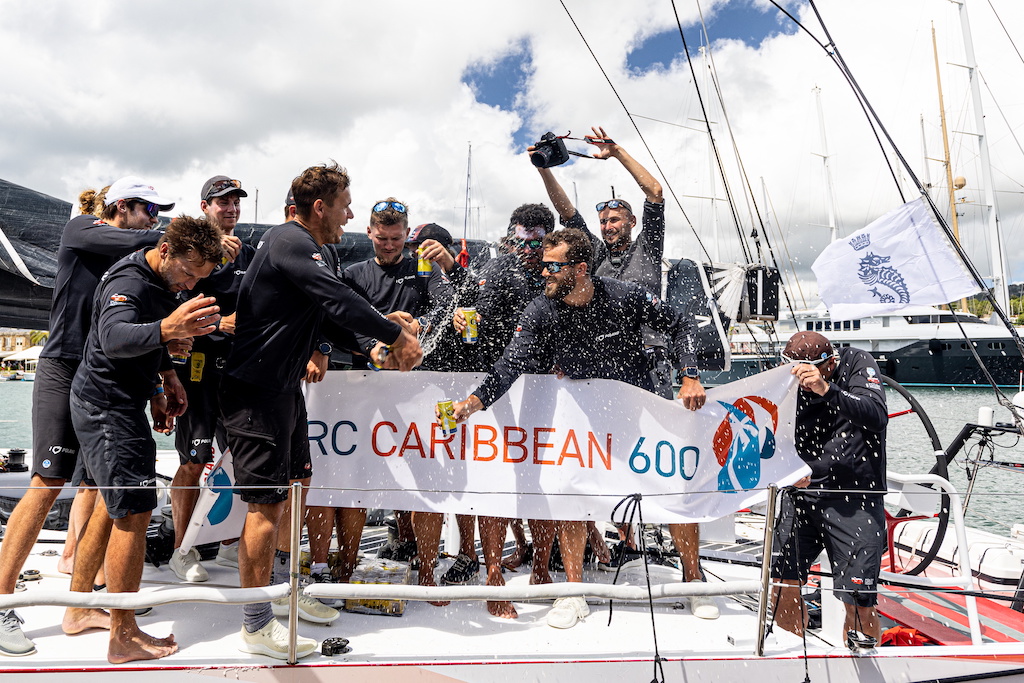 I Love Poland (POL) © Arthur Daniel/RORC
IRC Super Zero
Pyewacket 70 (USA) is 'in the clubhouse' and has won IRC Super Zero and leads the IRC fleet after time correction for the overall win. I Love Poland (POL), skippered by Grzegorz Baranowski finished the race in under 48 hours to claim second place in IRC Super Zero. Wind Whisper (POL) skippered by Joca Signorini was the first VO65 to finish the race. In an elapsed time of just under 50 hours, after IRC time correction, Wind Whisper completes the IRC Super Zero podium.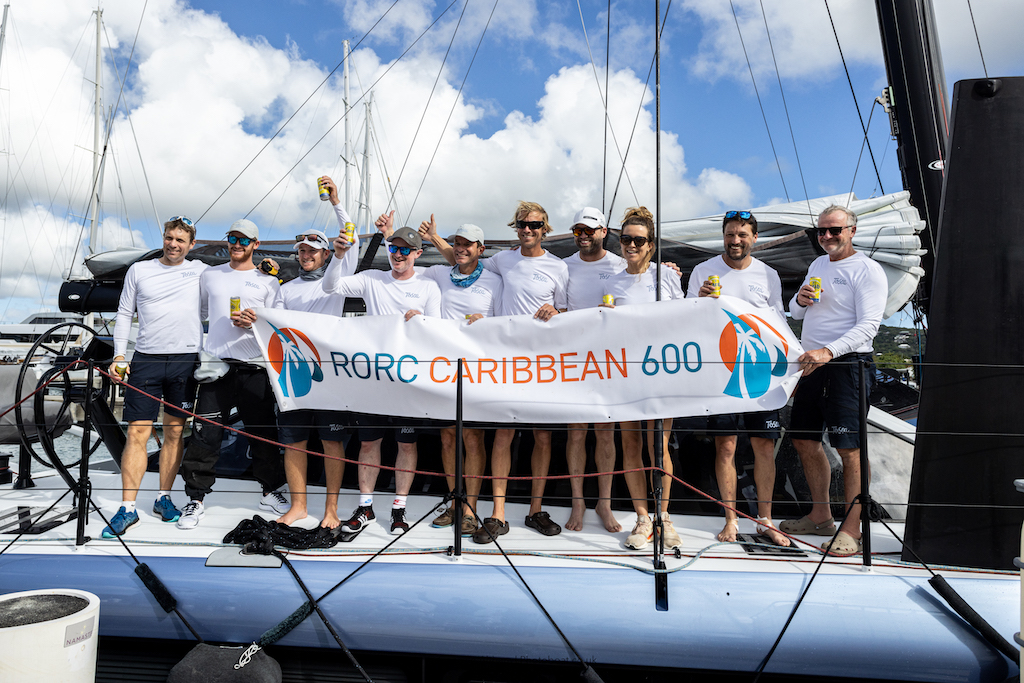 Gunboat 68 Tosca (USA) © RORC
MOCRA Class
Gunboat 68 Tosca (USA) finished the race in the morning of day three to set the benchmark for the MOCRA Class. Giovanni Soldini's Maserati Multi70 (ITA) is second after time correction. MOD70 Zoulou (FRA), sailed by Erik Maris is currently third after MOCRA time correction, however Rob Merwin's Gunboat 60 Cui Bono (USA) was passing Redonda at 14:00 AST and was in with a chance of snatching a podium finish.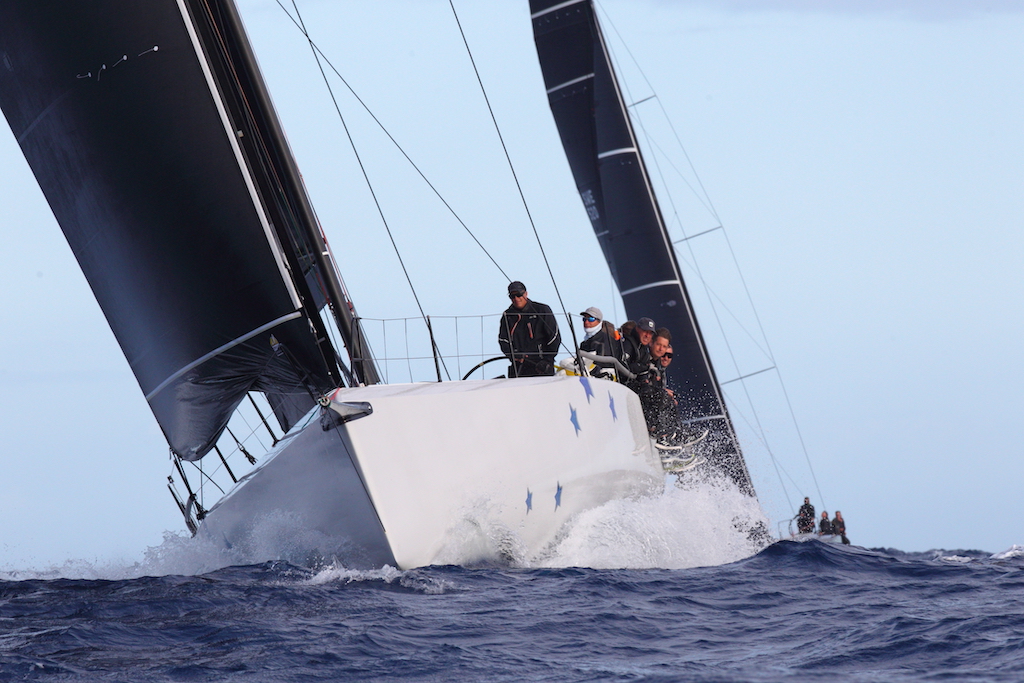 Kate & Jim Murray's Pac52 Callisto (USA) © Tim Wright/RORC
IRC Zero
The leading boats in IRC Zero are expected to make the finish at around sunset tonight; Wednesday 22 February. Kate & Jim Murray's Pac52 Callisto (USA) was the first in class to round Redonda. Hot on Callisto's heels was Botin 56 Black Pearl (GER), skippered by Stefan Jentzsch, which rounded just 8 minutes later. RORC Vice Commodore Eric de Turckheim racing NMD54 Teasing Machine (FRA) was 15 minutes behind Callisto. After IRC time correction, Teasing Machine was not only leading IRC Zero but also IRC Overall. Callisto was second in IRC Zero and Frederic Puzin's Ker 46 Daguet 3 – Corum (FRA) was ranked third.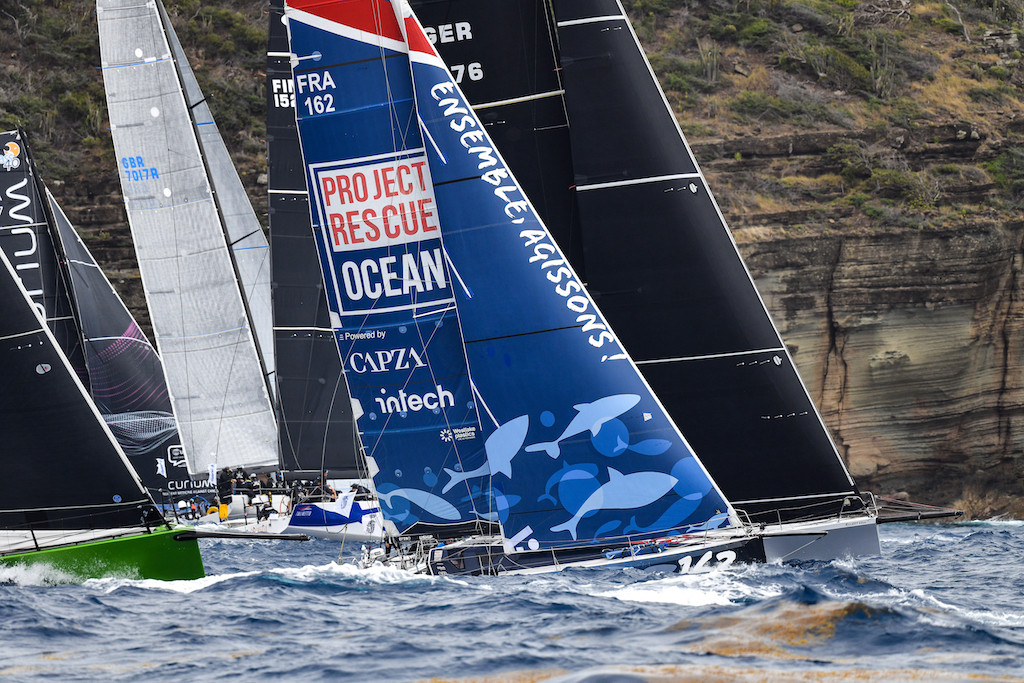 Class40 Start © James Tomlinson
Class40
The leaders in the Class40 Division are closing in on the Barbuda Mark and expected to make Antigua at around midnight on Wednesday 22 February. An absolute cracker of a finish is keenly anticipated, with four boats in the hunt for Class40 glory in this year's record fleet. Albi Bona's IBSA (ITA) is leading by just one mile from Ambrogio Beccaria's Alla Grande – Pirelli (ITA). Two miles from pole position is Axel Trehin's Project Rescue Ocean (FRA). Marc Lepesqueux's Curium Life Forward is six miles behind IBSA.
IRC One
With around 200 miles to go, the leaders in the IRC One fleet are in the Guadeloupe 'Casino'. The wind shadow of the largest island on the course seems to be giving jackpots to the IRC One boats. All of them are making good speed to the exit at Les Desirade. Jon Desmond's Mills 41 Final Final (USA) leads on the water as the team have done from the very start of the race. Adrian Lee's Swan 60 Lee Overlay Partners II (IRL) is second, but had to send a diver overboard earlier in the race to free a fishpot. Third on the water is First 53 Yagiza (FRA) skippered by Phillippe Falle. After IRC time correction, Dan Litchfield's Classic Aage Nielsen 59 Hound (USA) is ranked first in class. However, analysis of the IRC corrected time shows the top five boats are all in with a chance of the title: Yagiza, Andrew & Sam Hall's Lombard 46 Pata Negra (GBR), Final Final and Lee Overlay Partners.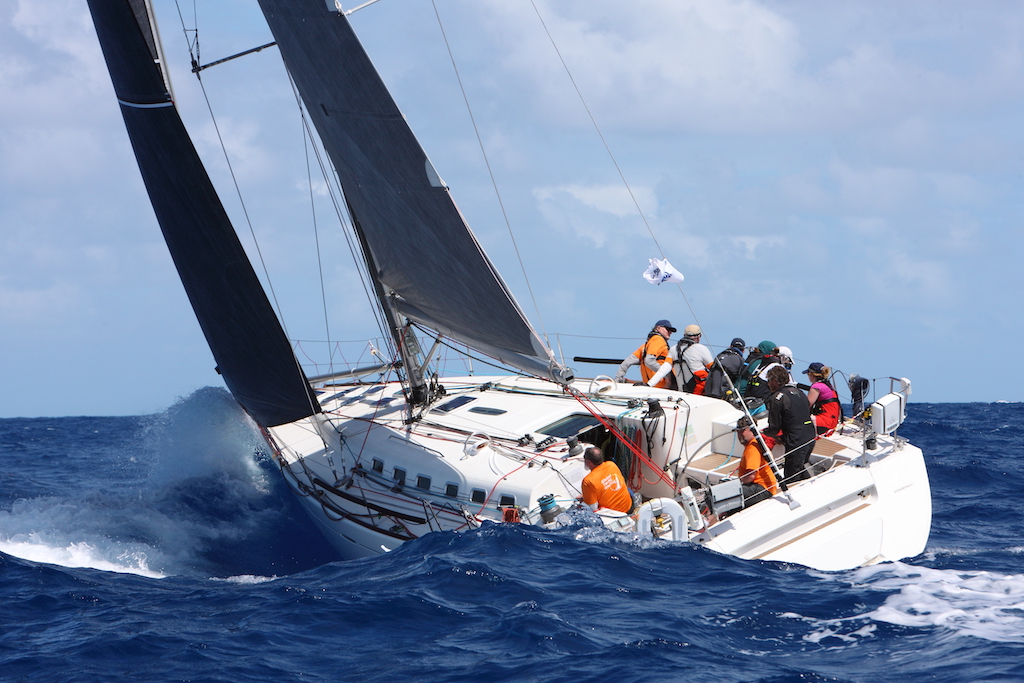 Andy Middleton's First 47.7 EH01 (GBR) © Tim Wright/RORC
IRC Two
J/133 Vamoose (USA) skippered by Bob Manchester has a 17 mile lead on the water from Andy Middleton's First 47.7 EH01 (GBR). Vamoose is making excellent headway through the lee of Guadeloupe and will be looking to extend their lead as the team reach the fresh wind of the Atlantic Ocean. A battle is raging for third on the water between Peter McWhinnie's JPK 1080 In Theory (USA) and Ray Rhinelander's J/133 Bella J (CAN). After IRC time correction, In Theory leads by two hours. Vamoose and EH01 are virtually tied for second place on corrected time.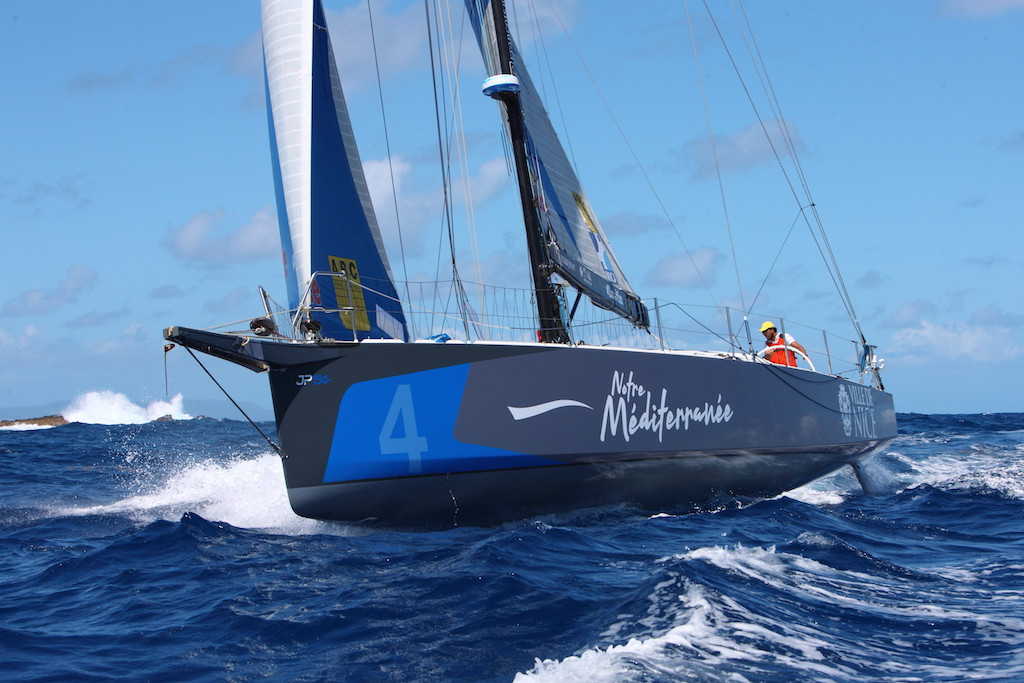 Leading the IRCTwo-Handed Class: Verdier 54 Notre Mediterranee - Ville de Nice (FRA) at St Barths © Tim Wright/Photoaction.com
IRC Two-Handed
Verdier 54 Notre Mediterranee - Ville de Nice (FRA), sailed by Fabien Biron & Pim Nieuwenhuis have continued to impress. The Franco-Dutch duo are halfway to the Barbuda Mark; 120 miles from the finish and they are leading the Two-Handed Class by an uber 10 hours after IRC time correction. Markus Moser's Pegasus 50 Lifgun, racing with Marko Pas is in second place. Kate Cope & Claire Dresser racing Sun Fast 3200 Purple Mist has moved up the rankings to third overall. The all-women Two-Handed team is 300 miles from the finish and their current ETA is before the RORC Caribbean Prize Giving on Friday; now there's an incentive!
---