Sailors from at least 37 nations will be competing in the RORC Caribbean 600 organised by the Royal Ocean Racing Club. The 12th edition of the spectacular race will start off Fort Charlotte, Antigua on Monday 24th February 2020. Over 70 teams, featuring close to 700 sailors are expected on the start line. The challenging 600-mile race, in tropical heat with ocean swell, is renowned for stunning vistas of the 11 Caribbean islands on the course.
IRC Zero will feature a substantial number of round the world racing yachts, including last year's overall winner David and Peter Askew's Volvo 70 Wizard (USA). "Seven of the guys have done three or more round the world races and Curtis Blewett, Richard Clarke, Rob Greenhalgh and Phil Hamer are all VOR winners," commented Peter Askew. "David and I have been sailing with this team since 2015. The boat requires skilled sailors with lots of time on canters, specifically the big maxis. The crew of Wizard are the winners of the 2019 Hempel World Team Sailing Award and the 2019 RORC Yacht of the Year."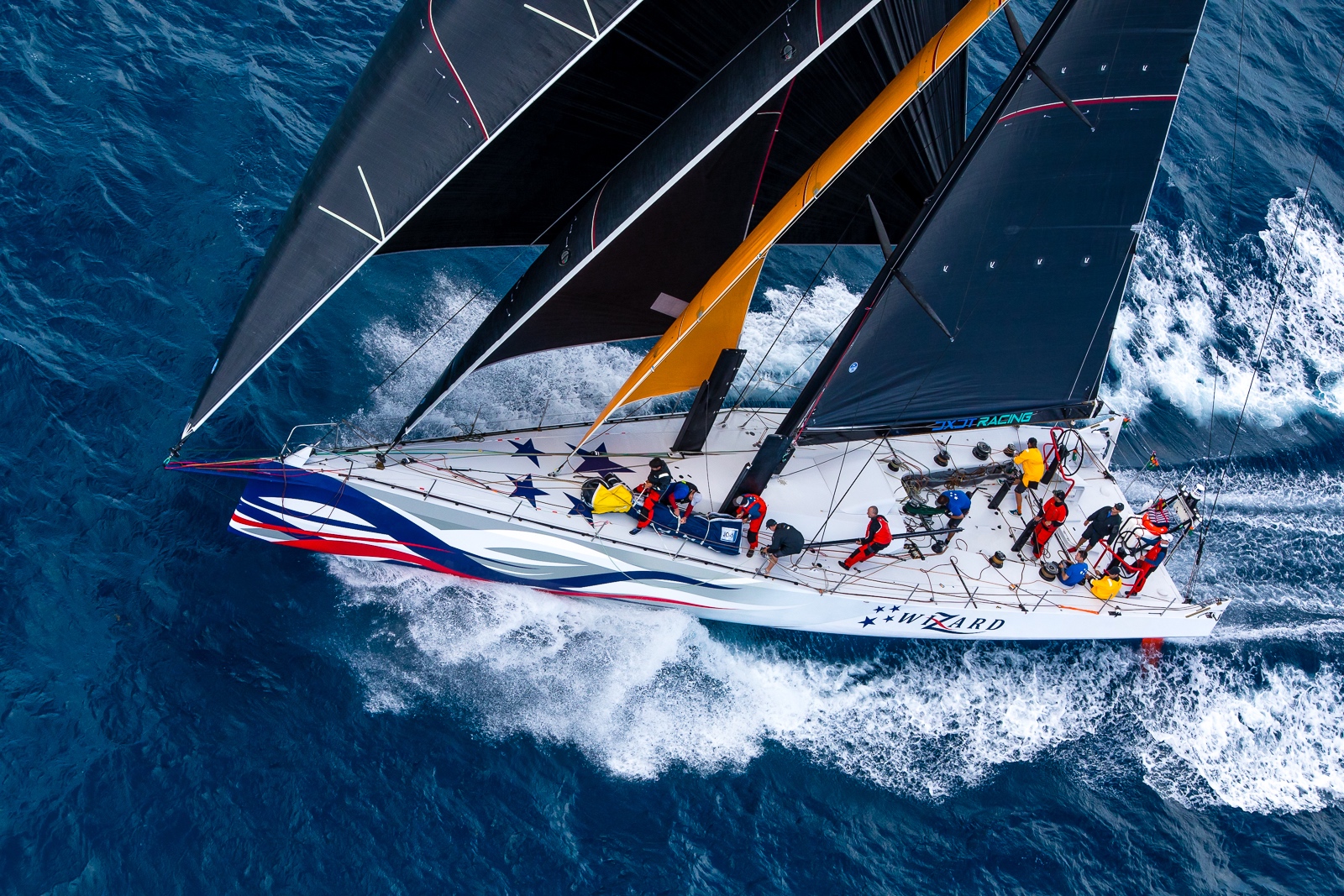 2019 winners return to defend their trophy - Peter & David Askew's American Volvo 70 Wizard © Arthur Daniel
Also racing in IRC Zero will be the largest yacht in this year's race, Jeroen Van Dooren's Swan 95 Lot99 (NED). The magnificent Swan was launched in 2017 and has just finished a circumnavigation. "Lot99 is now back in the Caribbean after sailing around the world and we are looking forward to unleashing her on the racecourse and pushing her against the competition!" commented Skipper Dan Newman. "We set sail west from the Caribbean in February 2019 and got back exactly a year later having completed a full circuit of the globe, sailing across the Pacific, Indian and Atlantic oceans!"
Fancied boats in IRC Zero include Tilmar Hansen's lighting quick TP52 Outsider (GER), fourth overall in the 2019 Rolex Fastnet Race, previous race winner Ron O'Hanley's Cookson 50 Privateer (USA), and Eric de Turkheim's IRC optimised NMD54 Teasing Machine (FRA). "The biggest challenge will be to beat the canting keel boats," commented RORC Rear Commodore de Turkheim. "Sun, wind fun and a very challenging racecourse, it is the most fascinating RORC yearly event."
The turbo-charged MOCRA class features eight hi-tech multihulls all vying for class honours. The multihull race record, set last year by Giovanni Soldini's Maserati (ITA), is 1 day, 6 hours, 49 minutes and the enigmatic Italian legend is back to lead his highly experienced team. Last year, Jason Carroll's Argo (USA) miraculously came back from a capsize in training, pushing Maserati to a photo-finish. This year Peter Cunningham's PowerPlay (CAY) will also be in the mix. This is the first time that all three will have taken part together in the RORC Caribbean 600. Round the world winners abound on all three boats; Loick Peyron (FRA) and Simon Fisher (GBR) on PowerPlay. Brian Thompson (GBR) and Franck Cammas (FRA) on Argo. A late entry to this year's race is theoretically quicker than all of the 70ft flyers. Antoine Rabestem's VPLP 80ft Ultime 'Emotion 2 (FRA) will be sailed by Petro Jonker and Rick Warner.
The multihull class winner will be decided by the MOCRA racing rule. Fancied entries include the 2018 class winner under new ownership as Shockwave, sailed by Scott Klodowski (USA) and Jeff Mearing (GBR). Last year's runner up, Greg Slyngstad Bieker 53 Fujin (USA), and the Nigel Irens 78 Allegra, with Paul Larsen (AUS) on board.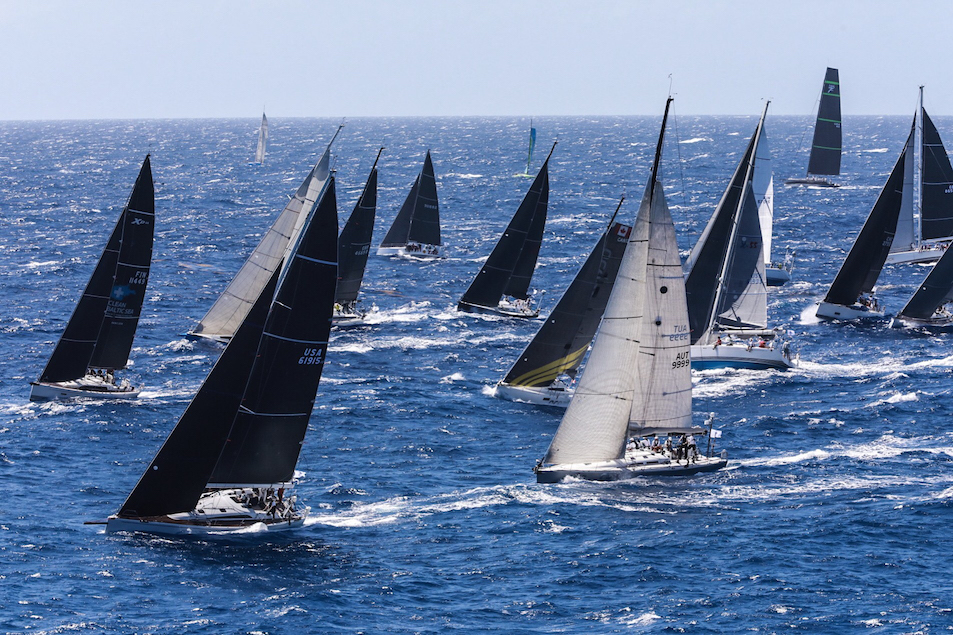 Biggest class this year is IRC One with 19 entries © Arthur Daniel
IRC One contains a huge variety of yachts, the largest are Peter Anthony's Farr 65 Spirit of Juno (ANT) and the Swan 65 Libelula, skippered by Francisco de Borja Pella Valette (ESP). The smallest yachts in the class are Germaine William's Pogo 36 Aminata, sailed by Andy Young (GBR), and Jeremy Thorp's GP42 Phan which is chartered to Catherine and Patrick Keohane (GBR). This will be the 12th race in a row for Bernie Evan-Wong, racing his RP37 Taz (ANT). Giles Redpath's Lombard 46 Pata Negra (GBR) and Philippe Frantz's NMD43 Albator (FRA) can be considered as favourites for the class, the latter has Figaro sailors and Fastnet champion Alexis Loison on board. 2009 winning skipper Adrian Lee will be racing his Swan 60 Lee Overlay Partners II (IRL). The Baltic 52 Kinship (USA) is owned by the oldest competitor in the race; Tom Selldorff is 92 and will be joined by the 90-year-old Caribbean legend Don Street who sailed his 46-foot yawl Iolaire for over 50 years, charting the Caribbean islands. His explorations resulted in the Imray-Iolaire charts of the eastern Caribbean and the Atlantic islands.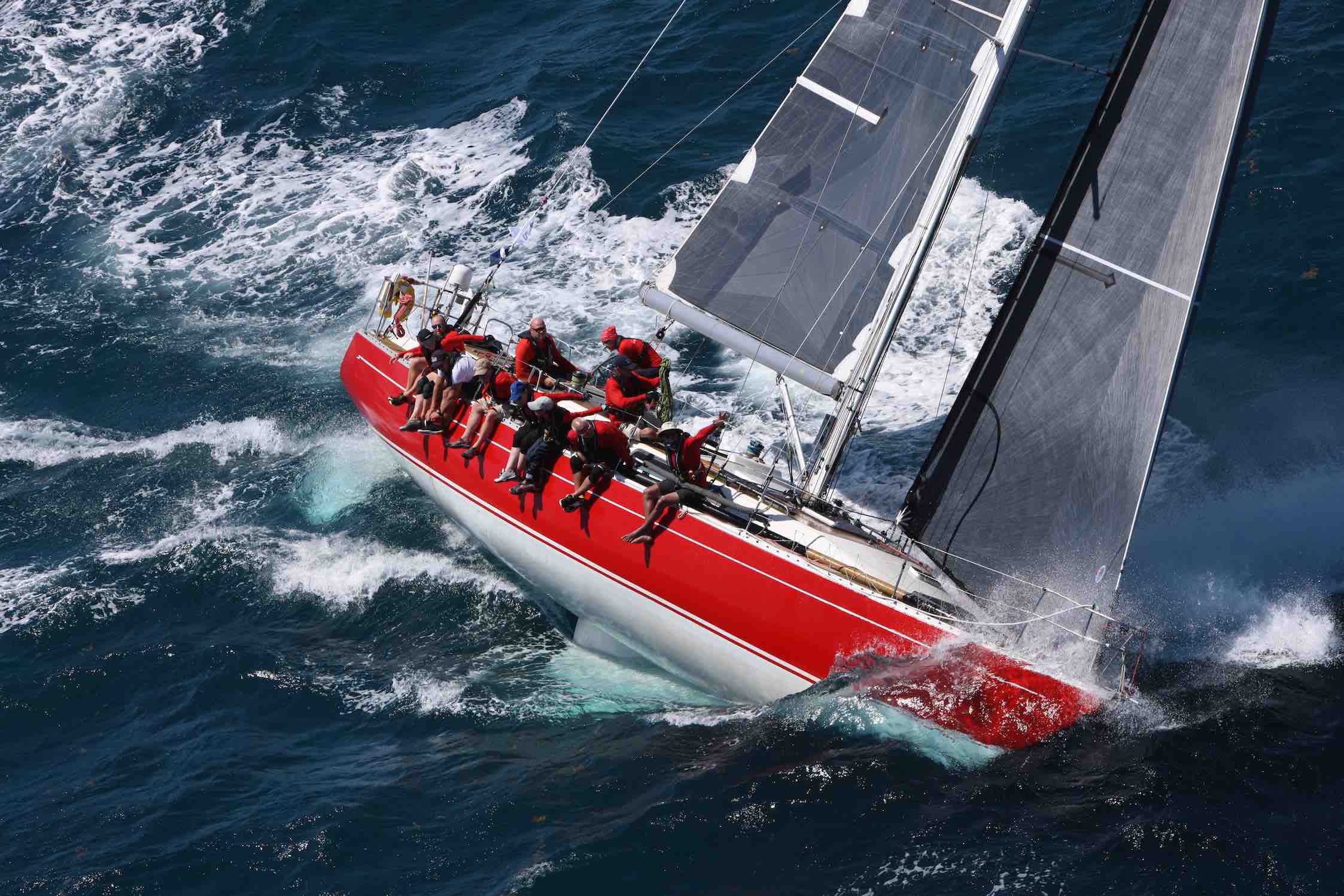 Vying for his 6th class win, Ross Applebey on his Oyster 48 Scarlet Oyster © Tim Wright
In IRC Two Ross Applebey's Oyster 48 Scarlet Oyster will be one of the favourites for the class, vying for their sixth-class win. Pamala Baldwin's J/122 Liquid (ANT), skippered by Julian White, has been training for the big event and will be one of the contenders. Last year's class runner-up First 47.7 EH01 will be skippered by Andy Middleton (GBR) with a strong crew from the Royal Ocean Racing Club including: Commodore Steven Anderson, Honorary Treasurer Derek Shakespeare, and Vice Commodore and 2019 IRC One champion, James Neville.
Racing Two Handed will be RORC Committee member Richard Palmer racing his JPK 10.10 Jangada (GBR) with Jeremy Waitt. Brothers Yoyo and Jankorf Gerssen return with Ohlson 35 Cabbyl Vane (NED): "All of our friends will be following us from home, especially from our hometown of Urk." commented Yoyo. Jonty and Vicki Layfield's Swan 48 Sleeper was the winner of IRC Three last year and the British couple will be racing Two Handed this year. Jeremi Jablonski will also be racing his Hanse 430 Avanti (USA) Two Handed again with Marek Mirota: "I'm super excited about doing another 600! The islands and scenery are amazing, but it is not a sunset cruise and many people may underestimate this race. We are both members of the Cedar Point YC on Long Island Sound and we've sailed together over 10,000nm in various offshore events."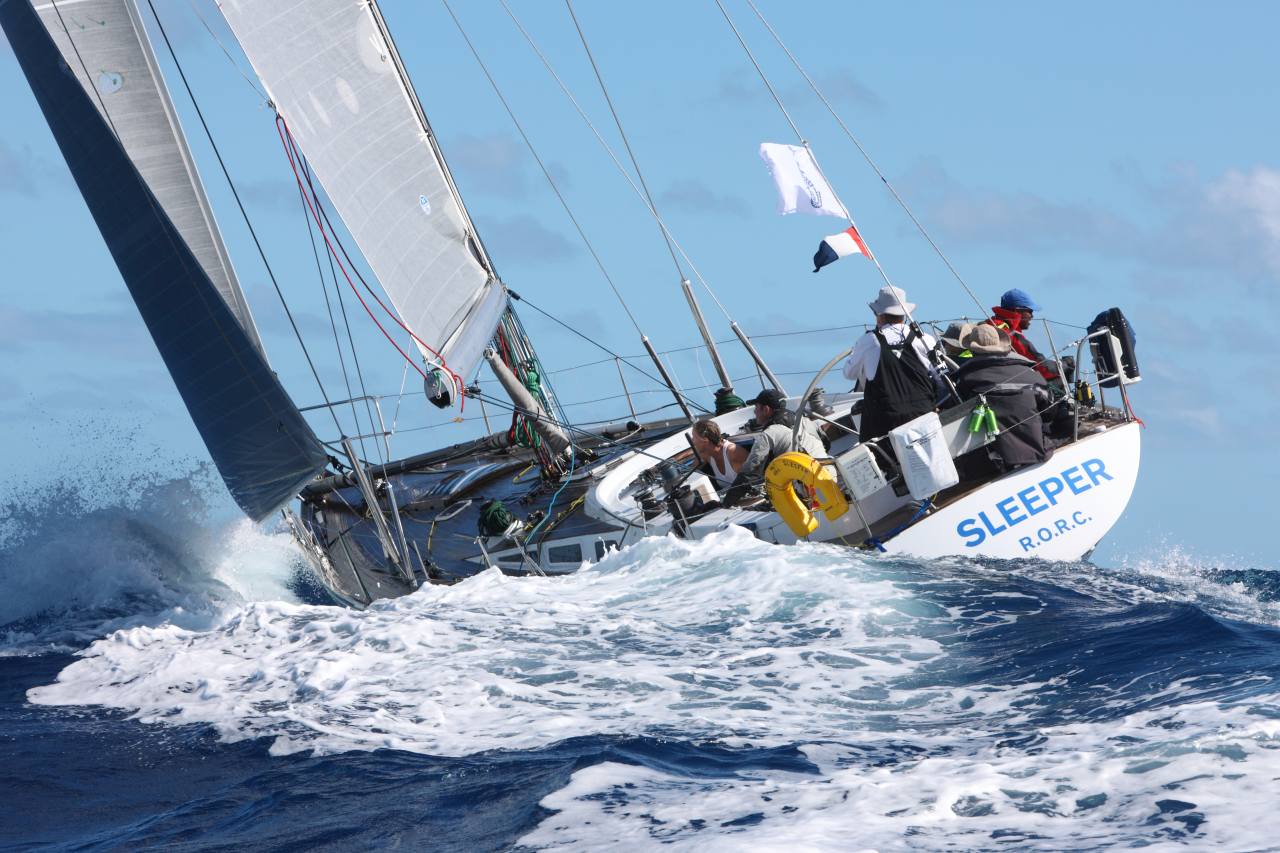 Racing Two handed in IRC Three - Sleeper, Jonty and Vicky Layfield's Swan 48 © Tim Wright/photoaction.com
In IRC Three, one of the smallest yachts racing will be Sun Fast 3600 Jellyfish chartered by Seaventus - Russian Offshore Racing Club, skippered by Vladimir Chirkov. Two fully crewed First 40.7s go head-to-head with Chris Clark's Fireball (GBR), and Escapado, led by Stuart Dahlgren (CAN). Richard Oswald's Elan 450 Emily of Cowes will also have a Canadian skipper, Katy Campbell with a crew mainly from Vancouver. Amongst the crew will be Nikki Henderson (GBR), the youngest ever Clipper skipper and second in 2017-18 Clipper Round the World Race.
"One of the things I find interesting in the 30-50ft range of the fleet is that there may be more charter crews than is common in the other great 600 mile races," commented Katy Campbell. "Having fewer owner-sailed boats with regular crew evens the playing field. Coming from Pacific Northwest, our crew is definitely looking forward to the novelty of big wind and warm weather simultaneously!!" continued Campbell.
For over a decade Class40s have competed in the RORC Caribbean 600. Racing a Class40 shorthanded on the course is a serious work-out, especially during the technically challenging first 24-hours. Arnt Bruhns' Iskareen (GER), a 2014 Finot-Conq, made the race podium in 2018 and should be equally matched with Romain Rossi's 2013 Akilaria Sensei. BHB will be sailed by Arthur Hubert (FRA) and is the most advanced Class40 in this year's race. The Verdier design was launched in 2017 and this will be the third RORC Caribbean 600 for BHB. The oldest generation Class40 will be Morgane Ursault Poupon's 2007 Rogers design, UP Sailing (FRA). Morgane is the daughter of Philippe Poupon, a three-time winner of the Figaro, winner of the Ostar, and Route du Rhum.
The 2020 RORC Caribbean 600 is scheduled to start on Monday 24th February at 1100 local time (1500 UTC). All yachts will be fitted with YB Trackers for race fans to follow the fleet. The start will be broadcast live on the RORC Facebook page.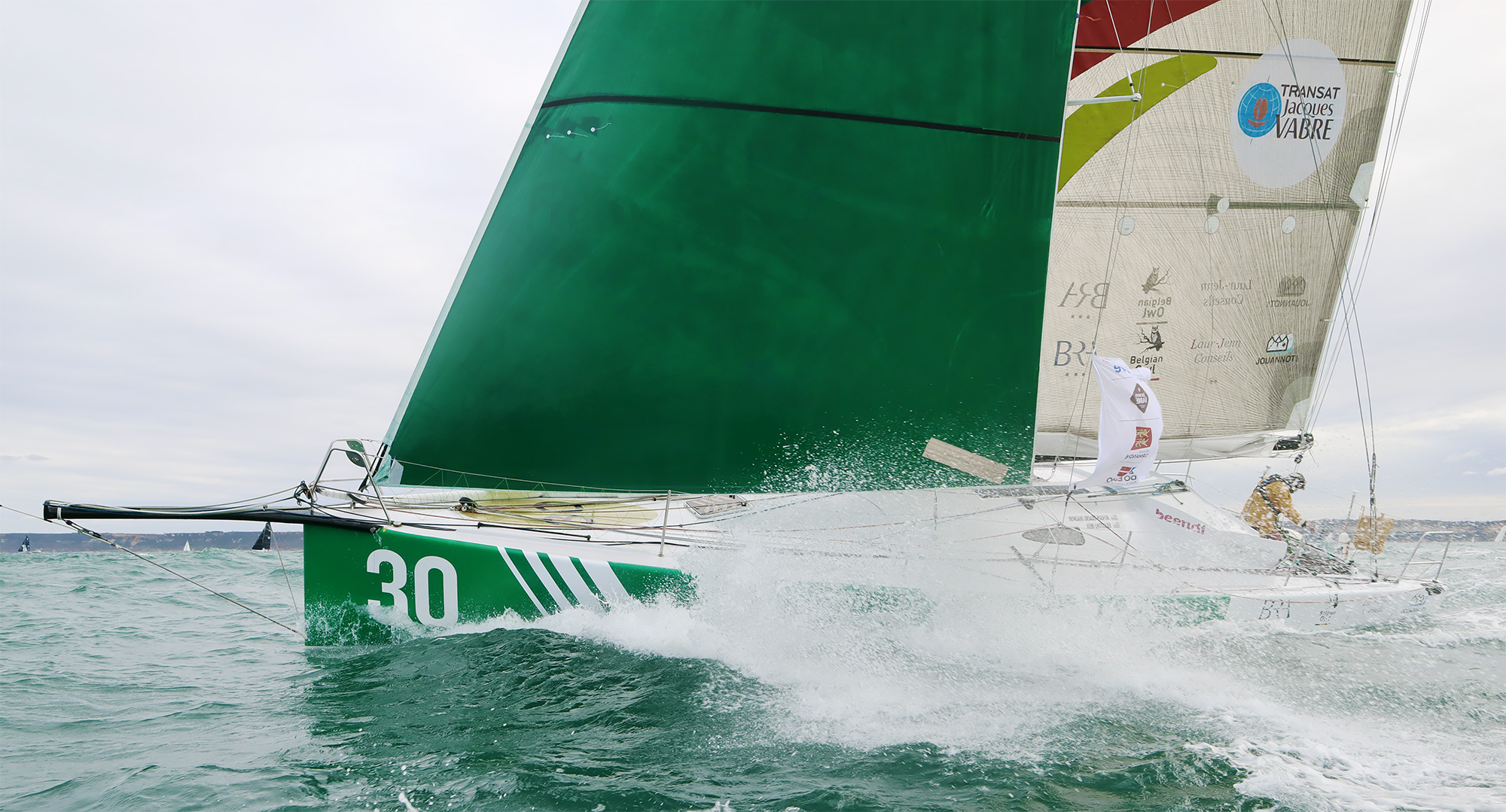 Morgane Ursault Poupon's 2007 Rogers design, UP Sailing (FRA) © Class40 Up Sailing
---