The 2019 RORC Caribbean 600 Prize Giving will be held tonight, Friday 22nd February and it is a special evening celebrating a premier race in the world yacht racing calendar. Hundreds of passionate corinthian sailors and the world's top professionals will rub shoulders at Antigua Yacht Club. Victorious teams will take to the stage to receive acclaim for their efforts and to be presented with personalised souvenir decanters of English Harbour Rum!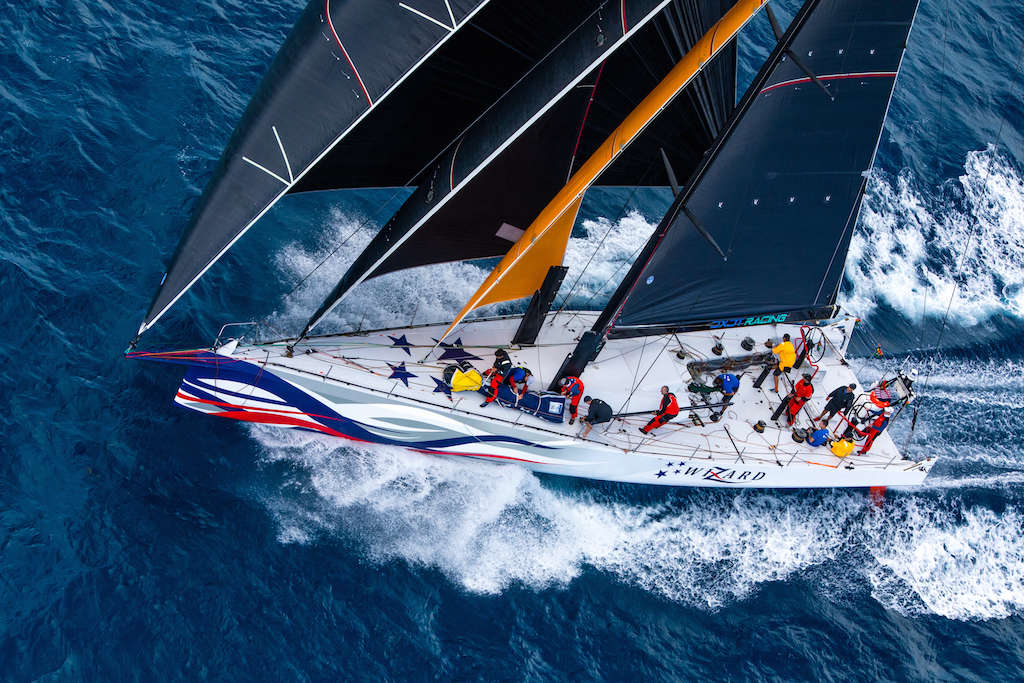 David and Peter Askew's Volvo 70 Wizard (USA) will pick up the overall winners trophy at tonight's prizegiving © Arthur Daniel
The biggest cheer of the night will go to the overall winners, when David and Peter Askew's Volvo 70 team racing Wizard (USA) will lift the RORC Caribbean 600 Trophy for the best corrected time under IRC. John Gallagher's Gunboat 62 team racing Chim Chim (USA) will receive the Multihull Prize for the best corrected time under MOCRA. Catherine Pourre's Class40 Team racing Eärendil (FRA) will raise the Class40 Rum Barrel for the second time, winning the Class40 division which this year had a record entry.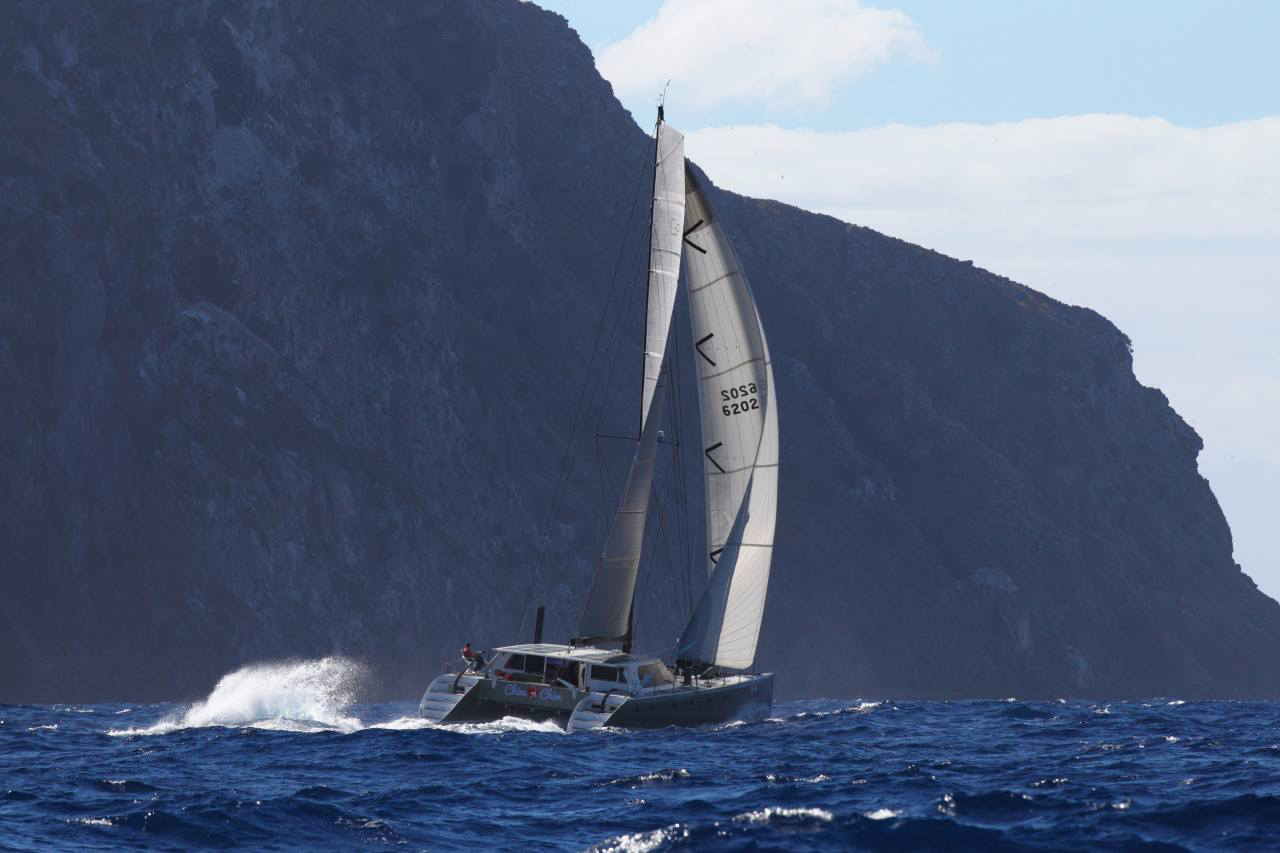 John Gallagher's Gunboat 62 team racing Chim Chim (USA) will receive the Multihull Prize for the best corrected time under MOCRA © RORC/Photoaction.com
IRC Zero accounted for the top three yachts overall under IRC. Wizard was first, with two British-based yachts filling the podium. Botin 52 Tala was second, with Ker 46 Lady Mariposa skippered by Nigel King, in third. Superyacht Nikata was the winner of the Superyacht Class, Will Apold (CAN) racing Southern Wind 96 Sorceress was runner up. In the IRC Two Handed division, Jeremi Jablonski, sailing with Marek Mirota on the Hanse 430 Avanti (USA) was the winner, with James Heald and Peter Doggart on the Swan 45 Nemesis (GBR) in second place.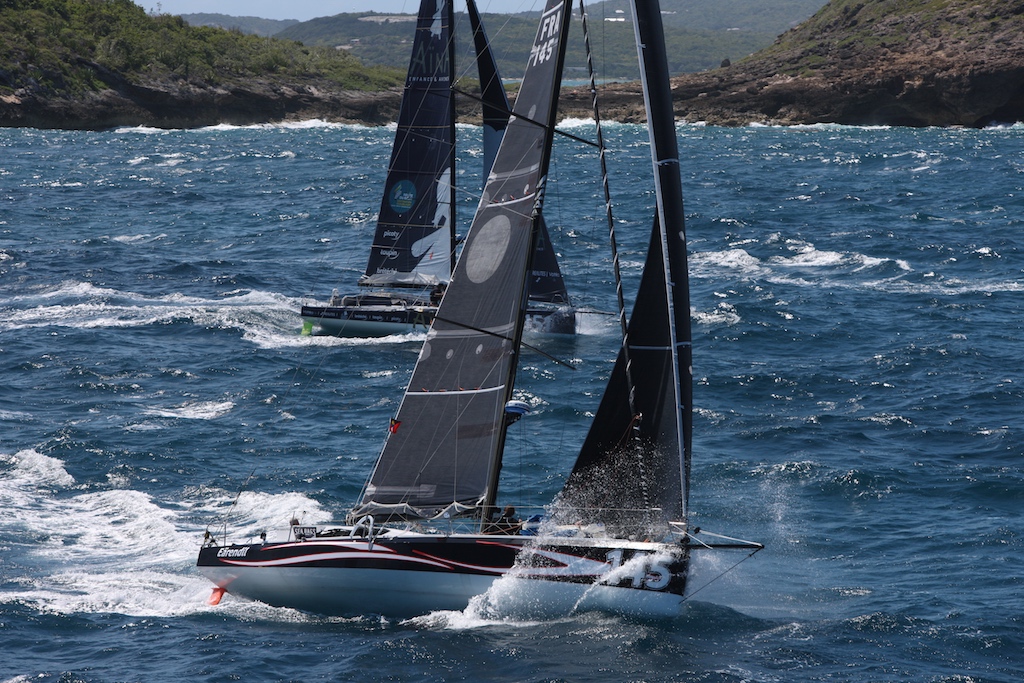 Catherine Pourre's Class40 Team racing Eärendil (FRA) will raise the Class40 Rum Barrel for the second time, winning the Class40 division © Tim Wright/Photoaction.com
Gibb Kane's Swan 66 Bounty (USA), was victorious in IRC One, with Andrew Berdon's Marten 49 Summer Storm (USA) in second and Pata Negra, chartered by Daniel Heine and skippered by Andy Liss (GBR) was third with a crew from Lake Constance, Germany.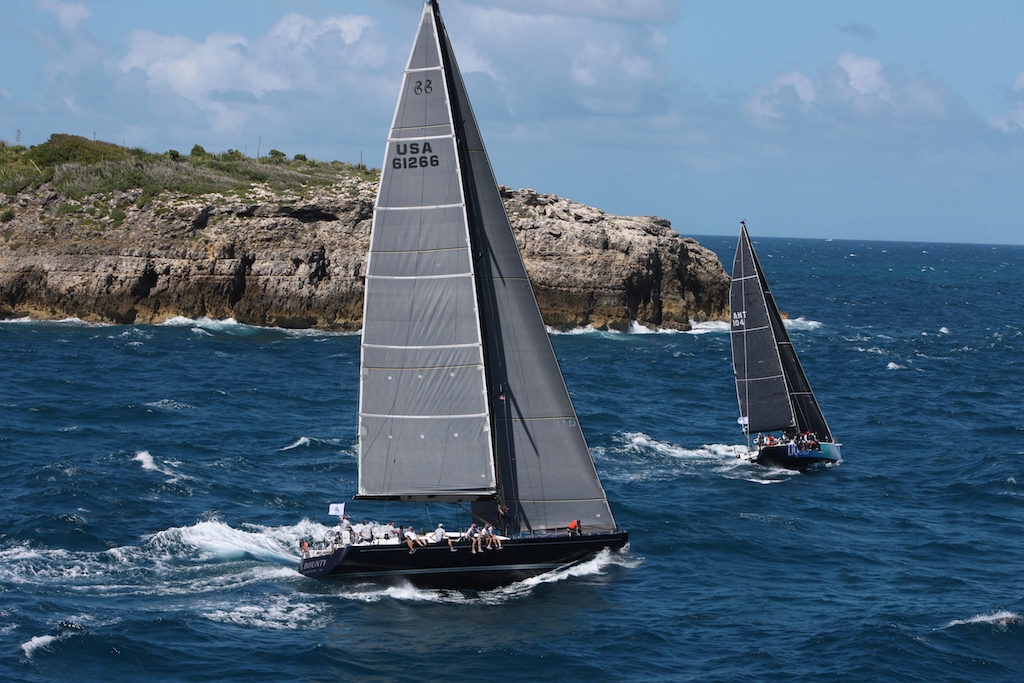 IRC One winner - Gibb Kane's Swan 66 Bounty (USA) © Tim Wright/Photoaction.com
"We are competing for the second time and in the last race we were leading overall going into Guadeloupe when the breeze shut down. This year it was the complete opposite; it was full-on beating into big waves and 25 knots," commented Bounty's Gibb Kane, winner of IRC One. "The crew work was spectacular; Pete Todd did a great job putting a skilled Bounty crew together and a special mention should go to our crew boss Mike Joubert and navigator Mark Wheeler. We did blow out two kites inside 15 minutes off St Barths, so for a while, the only soft sail we had was our Code Zero, but we were lucky that the angle was suitable for that. The guys were very ingenious, working round the clock. We used our Bounty belts to sew the head back onto the A3, but after a big puff it only lasted 12 minutes! The conditions were really good for Bounty and she is a very comfortable boat, but you still get some aches and pains when you are over 70! It was a fun race. We have sailed a lot together and we have had a lot of experiences where we didn't quite win, so this race is very special."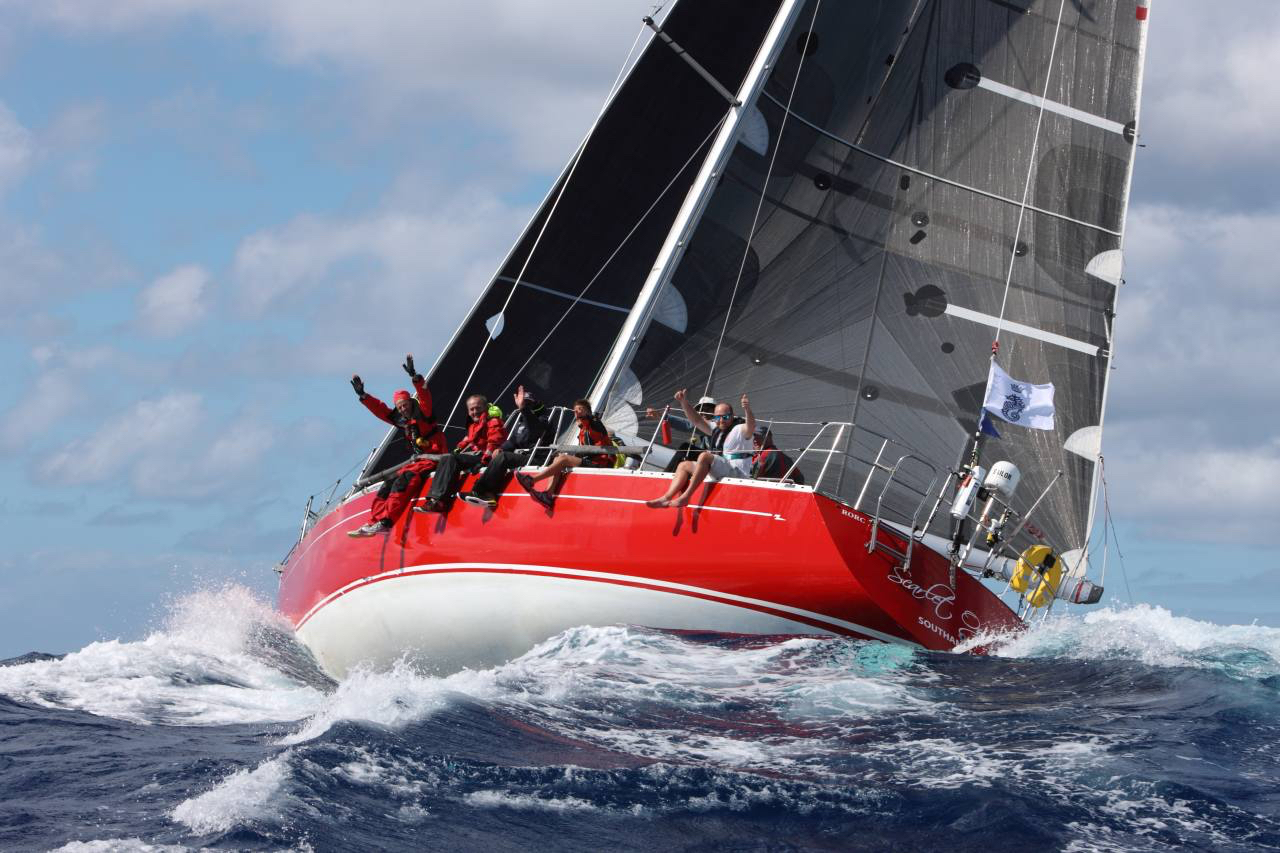 Ross Applebey's Oyster 48 Scarlet Oyster Tim Wright/Photoaction.com
IRC Two was won by Scarlet Oyster; this is the sixth class win for the Oyster 48 and the seventh for the Oyster 48's skipper Ross Applebey (GBR). Scarlet Oyster was also the winner of CSA 2. Performance Yacht Racing's Beneteau First 47.7 EH01 skippered by Andy Middleton was a close second. The battle for the class podium was won by Pamala Baldwin's J/122 Liquid (ANT), skippered by Julian White (GBR), holding off a strong challenge from another Performance Yacht Racing entry, GS43 Quokka, skippered by Christian Reynolds (GBR).
"We had a pretty good tussle with Andy Middleton the whole way round and he has certainly raised his game. We have never sailed harder. I have been in my foul weather gear for most of the race. It is a tough race which is hard on the boat and crew. It was like we were tied together with a bit of bungee cord," commented Ross Applebey, referring to second place EH01. "We were together right up until Guadeloupe and we both hit the beach. It was a bit frustrating getting becalmed for an hour or so; just 100 meters apart - it was very close. It was a rough big beat back from Redonda and the main split, so we put the trysail up and we were still surprisingly quick. We went inside Cades Reef at the end and I'm not sure if it was faster, but we did it anyway! It's flatter water and it's pretty, but I wouldn't do it in the dark!"
IRC Three was won by Vicki and Jonty Layfield's S&S Swan 48 Sleeper X (GBR/ANT). Trevor Middleton's Sun Fast 3600 Black Sheep (GBR), skippered by Jake Carter (GBR) was second, and Constantin Claviez's Swan 441 Charisma (GBR) was third.
British couple Jonty and Vicki Layfield are residents in Antigua and their crew is made up of friends and family who live and work in Antigua. This is the second time that the Layfields have won their class.
Jonty Layfield commented: "The crew were superb, a credit to themselves. It's hard work on a boat like this; 16 tons and 50 years old - it's not easy. We are a crew of friends and I wouldn't have it any other way. The atmosphere on board is just fantastic and when you have problems, which you will get with a boat like this, you need people around you that will find the solutions. Our son Jack was lowered over the side with his lifejacket on to bung a leak coming from the anchor locker. We were pumping out the boat manually for the entire race! This was a tough one."

"Every time I do this race, I say it will not happen again and whoever dreamt up the beat to the finish in 30 knots of wind, needs a good talking to!" smiled Vicki Layfield.
After CSA time correction, the overall winner of the CSA Division was Wizard, Franco Niggeler's Cookson 50 Kuka 3 (SUI), skippered by Chuny Bermudez (ESP) second, and Todd Stuart's Carkeek 47 White Rhino 2 (USA) was third.
RORC Racing Manager, Chris Stone confirmed that all of the 75 participating teams are accounted for: "Safety is the primary concern of the Royal Ocean Racing Club and the RORC Race Team has been monitoring the race 24 hours a day, and although we have reports of damage to yachts, we have received no reports of any serious injuries to any of 763 sailors during the race. The RORC recognise the time and effort put in by all of the teams in the RORC Caribbean 600 and look forward to welcoming them all to race with the Club again in the future. Also huge thanks to the huge number of volunteers who help with every aspect of the race finish here in Antigua."
The 12th edition of the RORC Caribbean 600 will start from Fort Charlotte on February 24, 2020.
---