Multi70 Maserati (ITA) and MOD70 Argo (USA) have been ripping up the RORC Caribbean 600 race track, blasting around the course at phenomenal pace and well over 30 knots of boat speed has been recorded on the YB Race Tracker.
Both teams are set to break the multihull course record, but the winner is still yet to be decided. Maserati, skippered by Giovanni Soldini led at Guadeloupe by 12 miles, but in terms of time, that is less than 30 minutes ahead of Jason Carroll's Argo. The two rocket ships are expected to finish the race around sundown today, Tuesday 19 February. Maserati is estimated to be three hours inside record pace!

In IRC Zero, David & Peter Askew's Wizard, skippered by Charlie Enright has been eating up the miles in the perfect environment for a Volvo 70. Wizard pulled the trigger yesterday afternoon on the blast reach up to Barbuda and the rev. counter has been red lining ever since. Wizard passed the halfway mark in less than 24 hours, smashing through well over 300 miles of Caribbean surf. Wizard is currently four hours outside the monohull race record set by George David's Rambler 88 last year. However, Wizard is the hot favourite for 2019 Monohull line honours and is estimated to be leading the fleet for the overall win under IRC for the RORC Caribbean 600 Trophy.
Greg Slyngstad's Beiker 53 Fujin (USA) with a Seattle-based crew is owning the MOCRA Class. On the morning of the second day of the race, Fujin was 25 miles ahead of their nearest competitor, Shannon Falcone's Falcon, and estimated to be over four hours ahead after time correction. The Fujin team rounded Saba last night and must have reflected on last year's capsize and rescue. After MOCRA time correction, John Gallagher's Gunboat 62 Chim Chim (USA) is second, with Phil Lotz's Gunboat 60 Arethusa (USA) third.

In IRC Three at dawn on the second day, Jonty and Vicki Layfield's Swan 48 Sleeper X (GBR) had a four mile lead and was estimated to be leading the class by three hours after IRC time correction. The early part of the race features plenty of upwind action, putting Sleeper in her element along with her sister ship Swan 48 Isbjorn, owned by Andy Schell and Mia Karlsson (USA), which was third in class. Sandwiched between the two heavy displacement vintage Swans was Trevor Middleton's Sun Fast 3600 Black Sheep (GBR); with a much lighter displacement, Black Sheep will be hoping to catch Sleeper on the long downwind leg to Guadeloupe.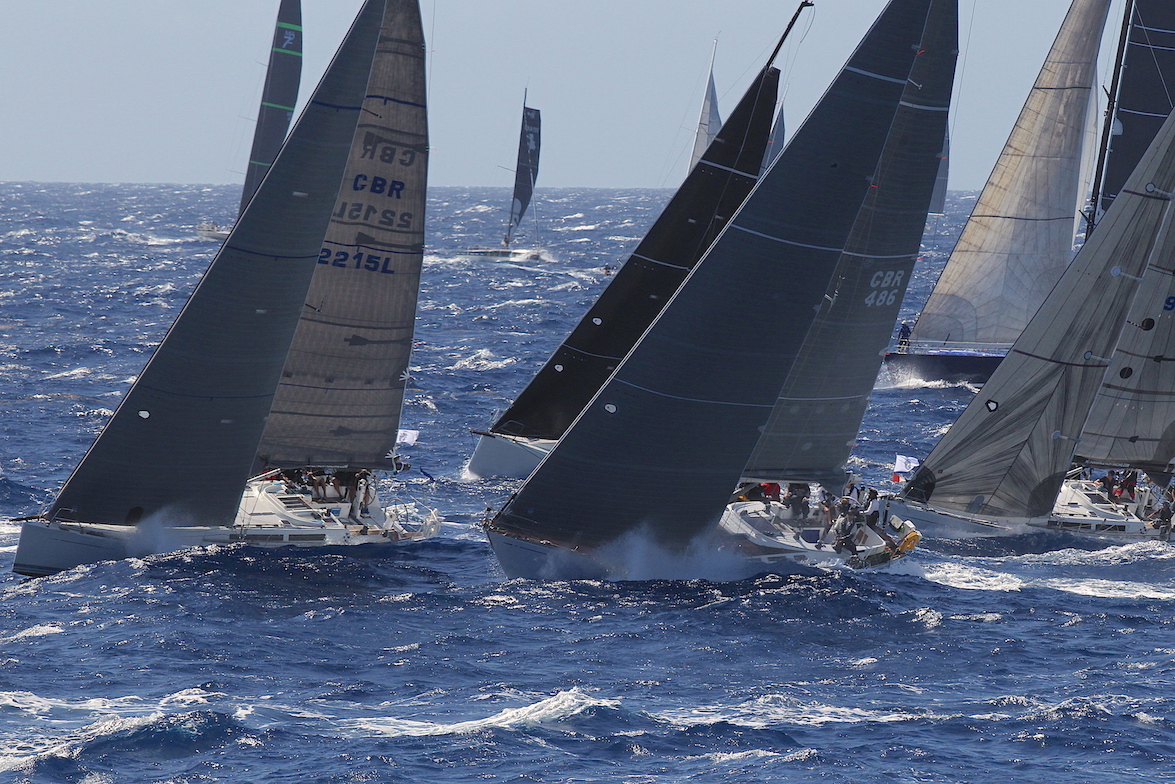 IRC Three: Jonty and Vicki Layfield's Swan 48 Sleeper X (GBR) had a four mile lead at dawn on day two © Tim Wright/Photoaction.com
In IRC Two, Ross Applebey's Oyster 48 Scarlet Oyster (GBR) was three miles ahead on the water and estimated to be three hours ahead on corrected time, followed by Performance Yacht Racing's First 47.7 EH01 skippered by Andy Middleton (GBR). Pamala Baldwin's Antigua J/122 Liquid, skippered by Julian White (GBR) and Grand Soleil 43 Jua Kali, skippered by Gareth Glover, also from the Performance Yacht Racing stable, were having a terrific battle for third.

In IRC One, the crew from Lake Constance, Germany racing Giles Redpath's Lombard 46 Pata Negra had a superb first night and is battling for the class lead with Bernie Evan-Wong's Antiguan RP 37 Taz. Lindsey Duda's Santa Cruz 52 Sin Duda (USA) leads on the water by nine miles and is currently third in class. Sin Duda will be hoping to stretch out a lead on the big downwind ride to come.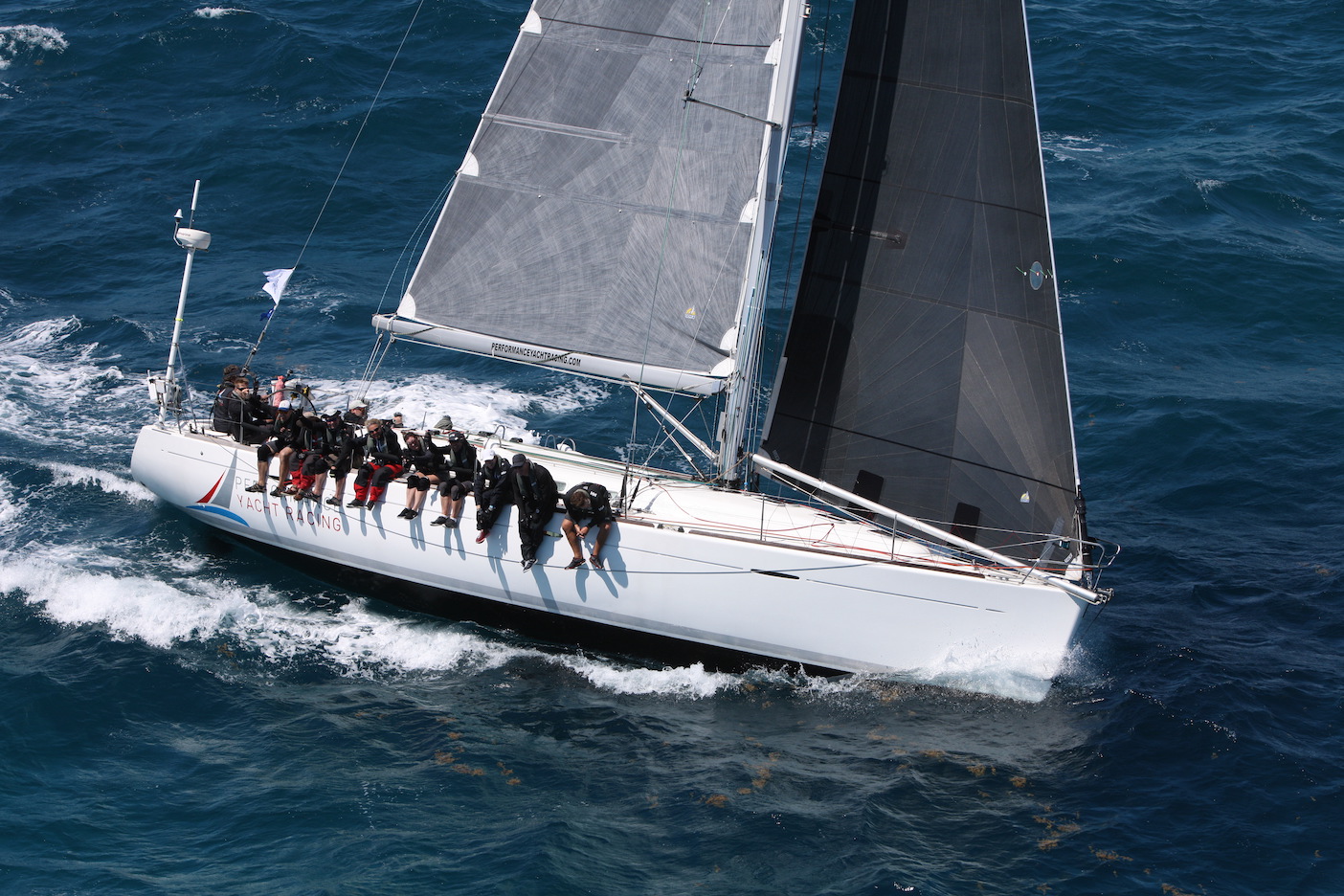 IRC Two: Performance Yacht Racing's First 47.7 EH01 skippered by Andy Middleton (GBR) © Tim Wright/Photoaction.com
Three teams are racing in the IRC Two-Handed Class; James Heald's Swan 45 Nemesis (GBR) leads on the water but 7 miles astern, Jeremi Jablonski's Hanse 430 Avanti is leading after IRC time correction. At dawn on the second day, Johannes Gerssen's Olson 35 Cabbyl Vane (NED) was heading for Saba and about to dig in for the beat to St. Barths.

A battle royal is raging at the front of the Class40s as the fleet rounded the most north western part of the course this morning. Catherine Pourre's Eärendil leads the fleet into the Anguilla Channel, but only just, stitched together with Aymeric Chappellier's Aïna Enfance Et Avenir. Luke Berry's Lamotte - Module Création is just behind the leaders. During the first day and night all three have held the lead, and that battle is set to continue. Pip Hare reported in from Henrik Bergesen's Hydra (NOR). "A fantastic night racing behind St.Kitts and Nevis; a wet ride with the A3 up in 18 knots of breeze. This is my fourth RORC Caribbean 600 and at this stage in the race, the fastest I have ever seen."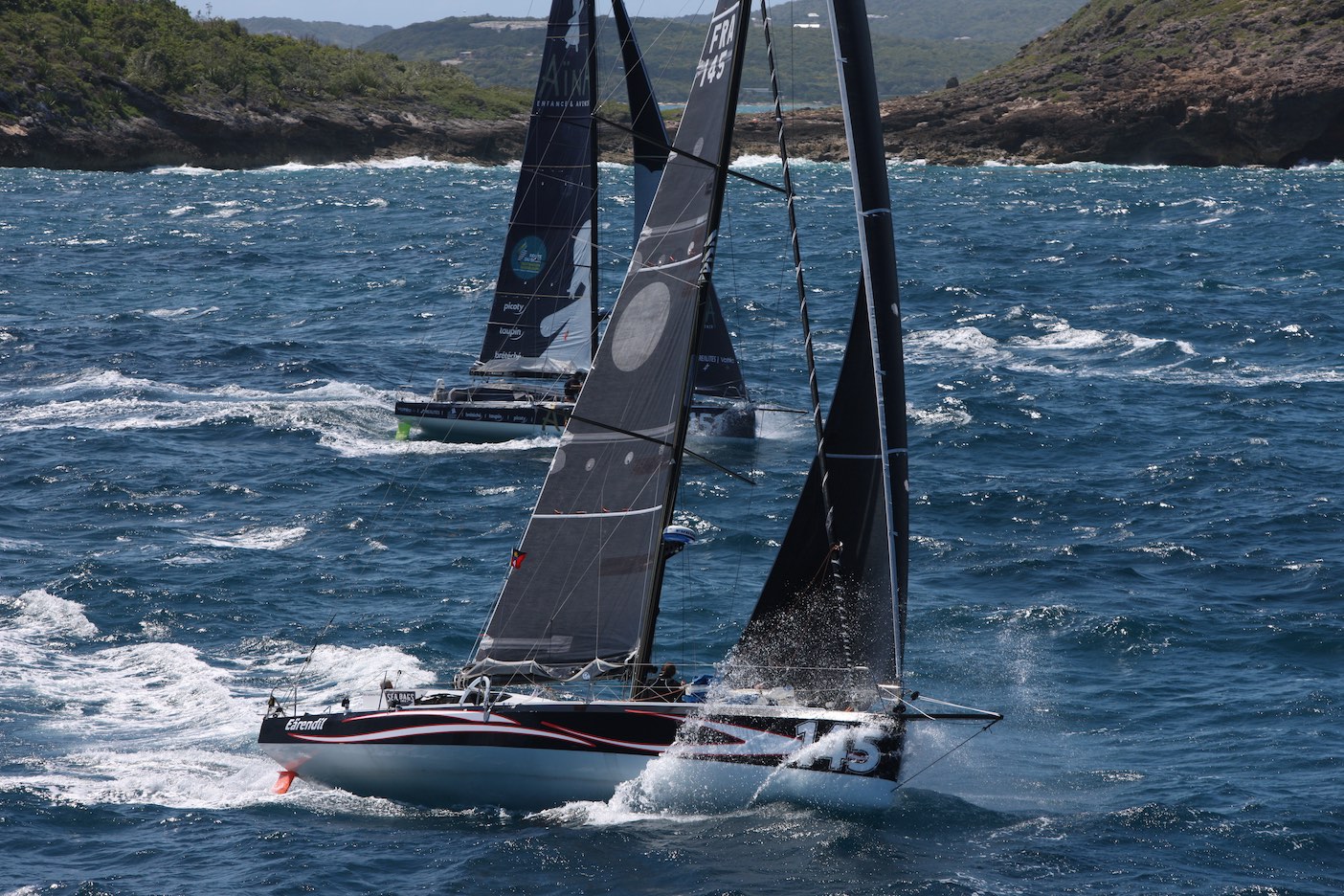 A battle royal is raging at the front of the Class40 fleet © Tim Wright/Photoaction.com
---