The strong conditions experienced at the start of the RORC Caribbean 600 continued through the first night.
At 06:00 AST on 20 February 12 yachts have officially retired from the race. Reports of wind speed in the region of 30 knots, with gusts of up to 40 knots are being reported by crew in the 600-mile race around 11 Caribbean islands.
Peter Aschenbrenner's Irens 63 Paradox is blasting along at the front of the fleet, but in their rear virtual view mirror provided by the YB Race Tracker, George David's American Maxi Rambler 88 is hunting the multihull down. Paradox is currently behind record pace for the multihulls, but only by 42 minutes. Rambler 88 continues at record pace for the monohulls and is expected to cross the finish line before midnight on Tuesday 20th February, well inside the race record.
Rambler 88 is blasting around the course hitting speeds of close to 30 knots. At Tintamarre, the most northerly point of the course, Rambler 88 was nearly an hour ahead of the race record. At 06:00 AST on 20 February, Rambler had completed half the course and was blast reaching past Montserrat on the way to Guadeloupe. Peter Aschenbrenner's Irens 63 Paradox is enjoying a thrilling reach towards Guadeloupe, leading the multihull fleet by a handsome margin. Last night, the American trimaran sustained a boat speed of 30 knots or more for several hours. The crew of Greg Slyngstad's American multihull Fujin which capsized last night, have all been safely transferred to a French coast guard.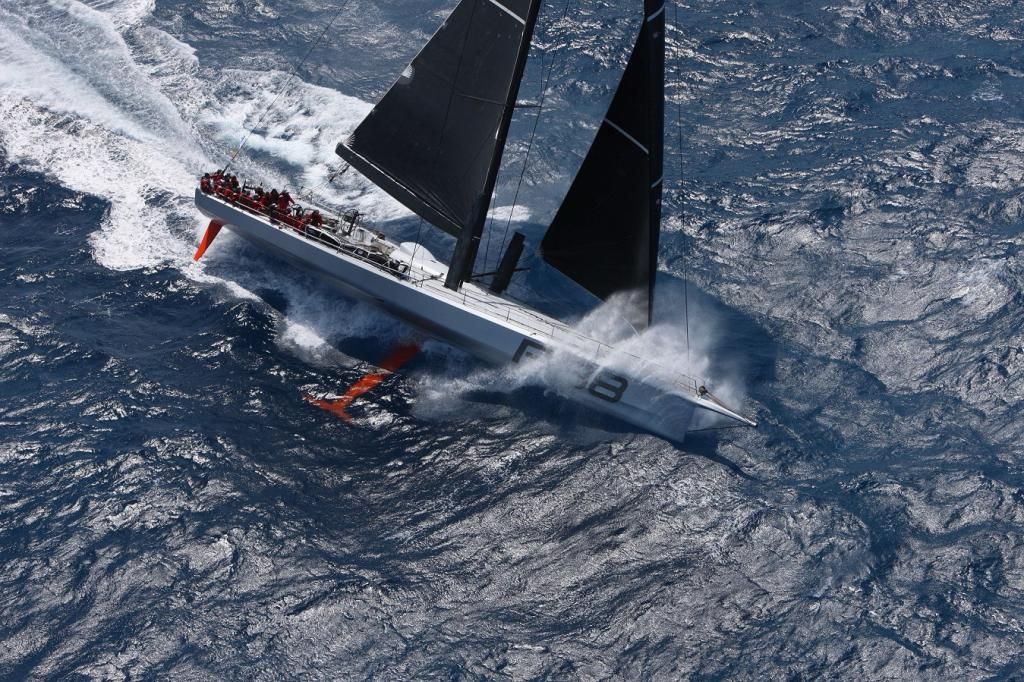 George David's Rambler 88 is currently ahead of the monohull race record © RORC/Tim Wright/Photoaction.com
In IRC Zero, after time correction Rambler 88 is estimated to have a lead of well over one hour in the class from The USMMA Sailing Foundation's American Volvo 70 Warrior. Ron O'Hanley's American Cookson 50 Privateer is estimated to be third after time correction. The majority of the retirements are in the big boat division: Ludde Ingvall's CQS, George Sakellaris' Proteus, Quentin Stewart's Maverick, Dixon 100 Danneskjold, Stephen Durkin's Bob, Clint Brook's Conviction and Oyster 885 Guardian Angel have all retired with crew reported safe and well. Bernie Evan-Wong's RP37 Taz has retired due to an injured crew member requiring hospital treatment for a hand injury.
Eduardo Plass' Brazilian Soto 65 Camiranga has also retired with a ripped mainsail. Camiranga crewman Samuel Albrecht spoke about the conditions: "We had 30 knots of wind with gusts of 40 and a building confused sea. We damaged the main in one big gybe and then it tore in half when we were beating towards St.Barths. We are all okay but it is a great shame as we have really been looking forward to the race and it was amazing sailing. We hit a top speed of 27 knots, just fantastic. We hope to be back to race again."
In the Class40 division all yachts are still racing. Catherine Pourre's Eärendil has opened up a 10-mile lead on Louis Burton's BHB. Mathias Muller von Blumencron's German Class40 Red is in third position. The Class 40s have already had a taste of the exhilarating reaching conditions with Eärendil hitting over 20 knots of boats speed yesterday. The Class40 fleet are negotiating the top of the course and after beating through the Anguilla Channel, the pocket rockets will pull the trigger to blast reach to Guadeloupe.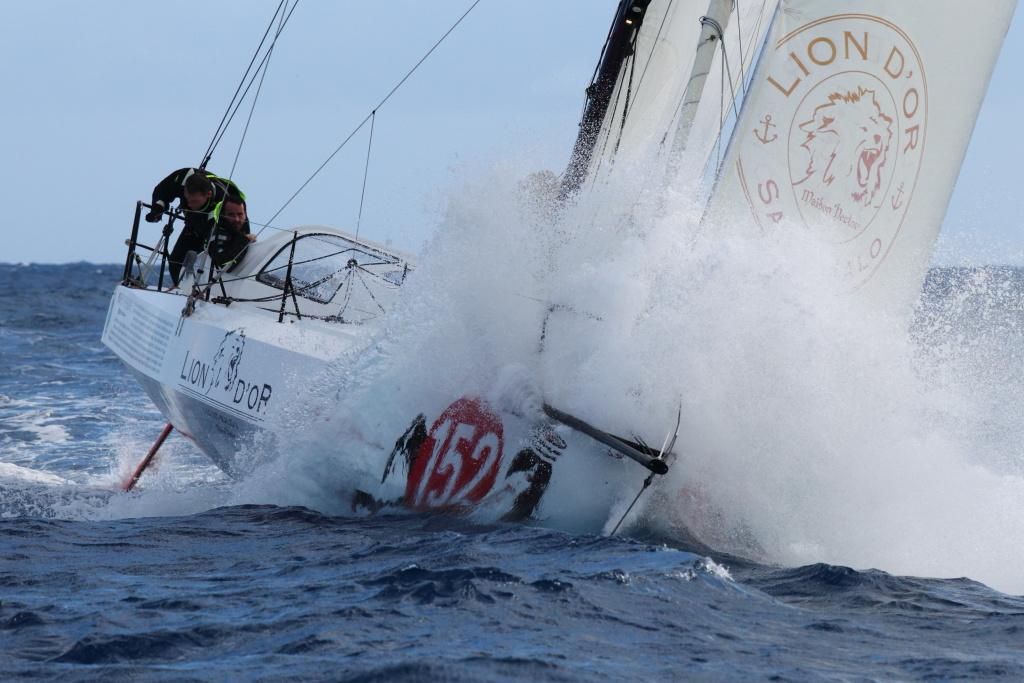 Enjoying spectacular racing: Louis Burton's French Class40 BHB at the Barbuda mark as captured by race photographer © Tim Wright/Photoaction.com
In IRC One, the provisional top three boats are Philippe Frantz French NM43 Albator, Kevin McLaughlin's American J/44 Spice, and Lombard 46 Pata Negra sailed by Michael Wright with a team from the Howth Yacht Club, Dublin Ireland. At the top of the leaderboard in IRC Two a battle is ranging between three British charter boats, all skippered by close friends. Andy Middleton's Beneteau First 47.7 EH01 is estimated to be just five minutes ahead on corrected time from Ossie Stewart and Ross Applebey's Dufour 45 Scarlet Island Girl. Grand Soleil 43 Quokka 8 skippered by Christian Simpson is third. All three yachts are beating towards St.Barth's. Scarlet Island Girl has chosen to sail above the rhumb line to take advantage of the lee of St.Maarten and St.Barth's. EH01 and Quokka are side-by-side taking the more direct route, beating into punishing conditions.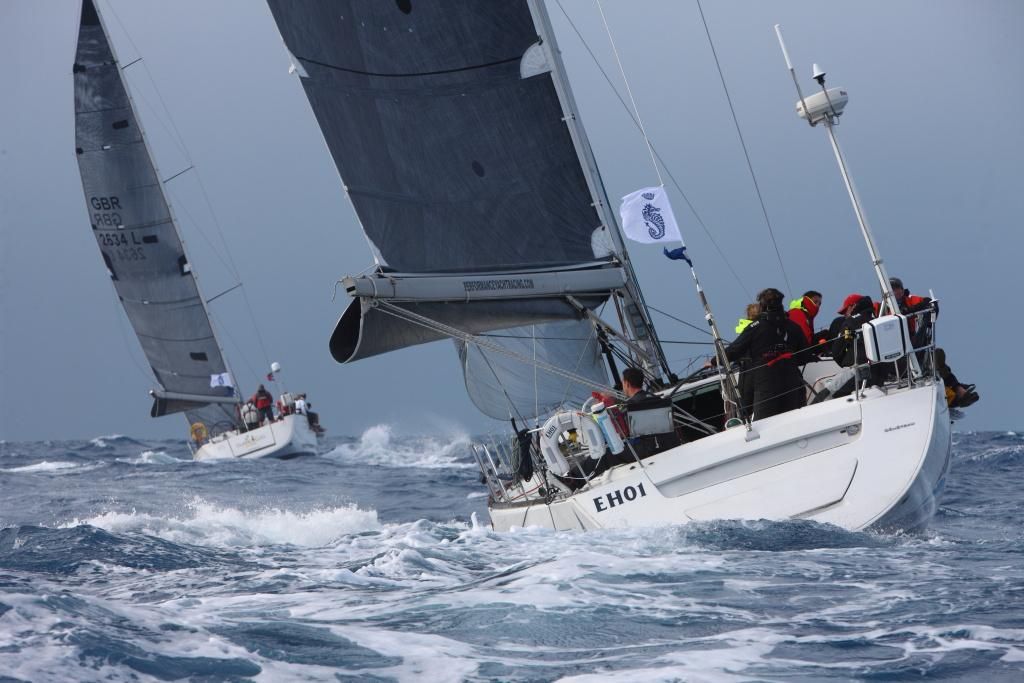 In IRC Two Andy Middleton's Beneteau First 47.7 EH01 is estimated to be just five minutes ahead on corrected time from Ossie Stewart and Ross Applebey's Dufour 45 Scarlet Island Girl © Tim Wright/Photoaction.com
In IRC Three, Richard Palmer's JPK 10.10 Jangada, racing Two Handed with Jeremy Waitt is the provisional leader; a sterling effort from the British duo. Irish yachtsman of the year Conor Fogerty racing his Sunfast 3600 Bam representing the Howth Yacht Club in Dublin is second. RORC Commodore, Steven Anderson, racing with co-skipper Jane Anderson is third. Last year's class winner Jonty and Vicki Layfield's Swan 48 Sleeper 10 has retired with gear failure, as has Sapphire Knight, skippered by Michael Skeet.
---