Thirty-four yachts have officially entered the ninth edition of the RORC Caribbean 600 starting from Antigua on Monday 20th February 2017. With almost double the number of entries as this time last year, the race has already attracted a magnificent fleet and is expected to better last year's record entry of 70 yachts.
Over the next four months, a huge variety of yachts will arrive in Antigua, along with crews from all corners of the world in order to prepare for the start of the Royal Ocean Racing Club's 600 mile yacht race around eleven Caribbean islands.
"The RORC Caribbean 600 is the only true offshore race in the West Indies and is a very attractive event for many sailors. I love every part of the race as you have to navigate to always put the boat in the right place, even though the situation is often changing," explains veteran French round the world sailor, Lionel Péan who is skippering the physically demanding Volvo 70, SFS II in the 2017 edition.
"The race requires full mental concentration and that is one of its most exciting values. You always have to ask yourself questions about your decisions and it is also a very technical race from one leg to another. There are always decisions to be made and many effects from the land. Racing around so many tropical islands in great weather is very beautiful. The RORC Caribbean 600 is a very unique race," says Péan, whose nickname is 'the Rock' (and it's not just about his rugby player physique).
Lionel Péan, skipper of the Volvo 70, SFS II © Antoine Beysens
Lionel Péan set his sights on winning the Whitbread Round the World Race for France and achieved his goal, as skipper of Esprit d'Équipe in 1986. Before his round the world win, Péan won the 1983 Solitaire du Figaro, but his first real test was the 1979 Mini Transat which finished in Antigua. Péan has raced the RORC Caribbean 600 previously, coming third overall in 2011 on Peter Harrison's 114ft Superyacht, Sojana. For the 2017 RORC Caribbean 600, monohull line honours and the overall win under IRC, will be the twin goals for SFS II.
"The Mini Transat was my first solo crossing of the Atlantic and I fell in love with Antigua and its people. It is always a joy to return to Antigua and spend time with great friends and the RORC Caribbean 600 will bring many of us together.
SFS II is a Volvo 70 designed for offshore racing and especially for reaching, which is a main feature in this race," comments Péan. "The Volvo 70 is perfect in this format so the '600 will be much more suited to our team than any race we've done with the boat. However, we will have a bigger crew than we would for an oceanic race. You have so many manoeuvres on a race like the '600; you eat up the crew all the time from sail changes and grinding and need a very good fit crew. We will probably race with 15 and not all of them are super-strong, but they are passionate and dedicated Figaro sailors which makes up for any lack of power."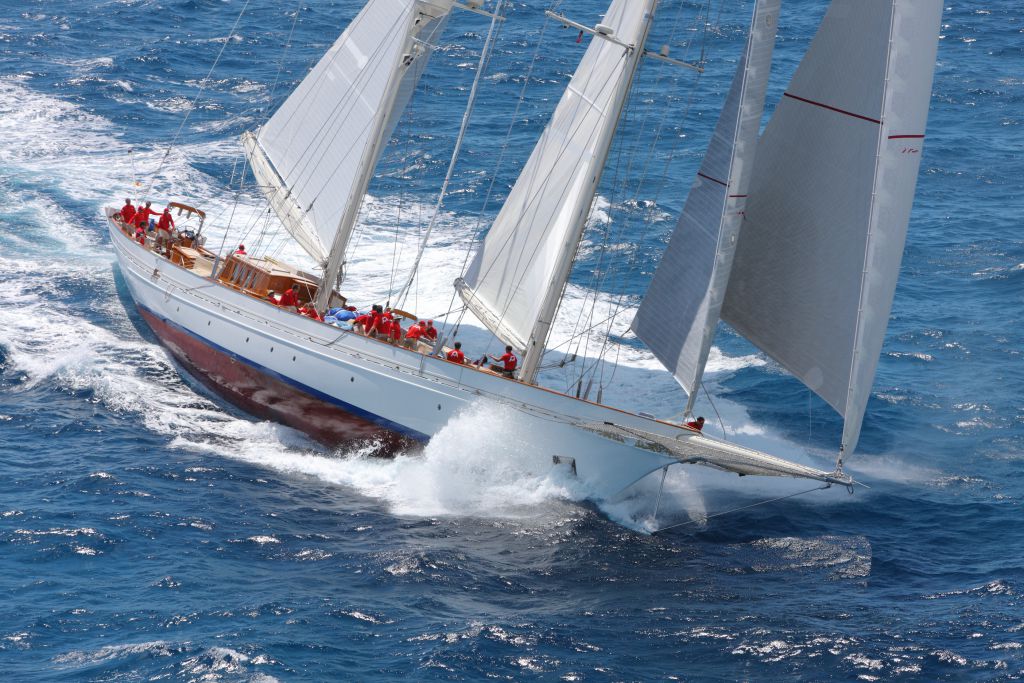 Adela, the majestic twin-masted 182ft schooner is making her way across to Antigua following a refit and will compete in the RORC Caribbean 600 for the fifth time
© RORC/Tim Wright/photoaction.com
Adela, one of the world's fastest schooners is back for a fifth RORC Caribbean 600. The 182ft twin-masted schooner dates back to 1903 and has recently undergone an extensive re-fit at Pendennis in Falmouth, UK. Performance enhancements under the water and new carbon rigging will complement an extensive sail wardrobe of hi-tech sails, including 'Big Red' a spinnaker of 1000 sq. metres. The schooner has an extraordinary record in the race; coming in the top ten overall under IRC in every race she has competed in, including third overall in 2013. Adela is also unbeaten in the Spirit of Tradition Class.
Adela's skipper, Greg Norwood-Perkins spoke about the RORC Caribbean 600 from the schooner, mid-Atlantic, en route to Antigua:
"The Caribbean, especially the Windward and Leeward Islands are hard to beat for sailing condition for Adela, says Norwood-Perkins. "Now throw in a race where you are competing with similar yachts and it adds further excitement to the venture. One that you just want to keep doing again and again. The RORC Caribbean 600 is top of the list for 'must to do' yachting. With more boats every year signing up to be on the start line, it is becoming a race that is increasingly harder to ignore on the racing calendar!
"On Adela we have to deal with the logistics of organising a large race crew so Antigua, and specifically English Harbour and Falmouth with their array of good hotels, restaurants, bars and marine-associated businesses, make the task so much easier. Cruising the Caribbean as much as we have and competing in four RORC 600 to date, we can categorically state that Antigua is the perfect venue for such an event. Compliments also need to be made in the seemingly faultless organisation of the event by the RORC and the association with Antigua Yacht Club."
For more information please go to: http://caribbean600.rorc.org/
---