While the multihull race record was not broken this year, Phaedo3 and Maserati had an incredible 600 mile high-speed duel.
Lloyd Thornburg's MOD70, Phaedo3 finished the 2017 RORC Caribbean 600 on Tuesday 21 February 2017 at 21 hrs 20 mins 46 secs AST, taking Multihull Line Honours.
The winning crew were:- Lloyd Thornburg (Skipper), Brian Thompson (Co-skipper), Paul Allen, Peter Cumming, Michel Desjoyeaux, Robert Greenhalgh, Damian Foxall and Miles Seddon.
Phaedo3 held on to win the battle of the trimarans, just 12 minutes ahead of Giovanni Soldini's Italian MOD70, Maserati. The high-speed battle saw the lead change hands at least four times during the race. The experimental semi-foiling Maserati showed incredible speed on a reach and it took a momentous effort from Phaedo3's well established team to hold off the challenge. There was high drama at Guadeloupe with vicious squalls and heroics from Maserati's crew diving into the water to free the boat from a fish trap.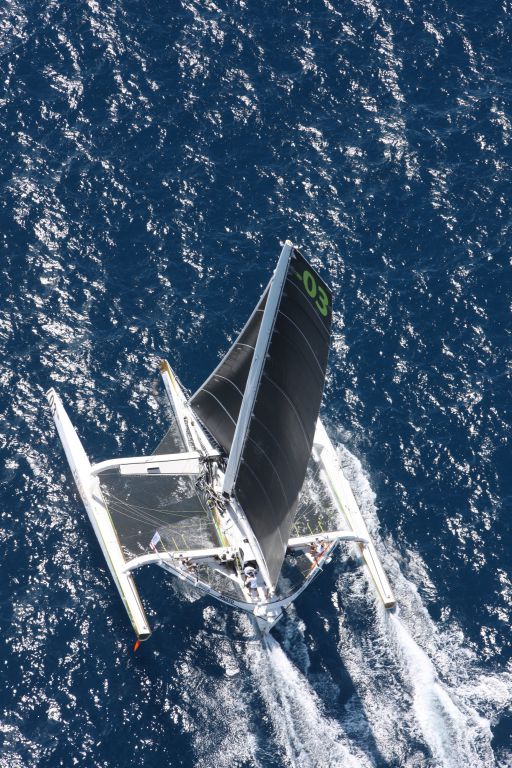 Lloyd Thornburg's MOD70 Phaedo3 - Photo RORC/Tim Wright
Once back on the dock in Antigua, Lloyd Thornburg, Skipper of the American Phaedo3 summed up the race: "Maserati gave us a heck of a run and it was really tough to stay ahead of a foiling boat. They kept coming at us with more pressure and they definitely have more speed at certain angles. The run down to Redonda was a real nail-biter and we knew that after that, the beat home would be in our favour and to cross the line ahead was just awesome. Every year, I get reminded how insane a race this is and after this race, our navigator Miles Seddon said to me that we have turned the insanity up again this year. You never get used to this race - hanging on reaching at 36 knots, it is just incredible. All of our team had to dig so deep and we love Antigua and had an amazing reception."
Co-Skipper of Phaedo3, Brian Thompson commented on the unusual wind direction that had been predicted before the start: "We had a lot more wind speed for the race, which was a surprise. Off Guadeloupe we had huge rain squalls which are really quite dangerous in a MOD70 and we had 30 knots of wind from nowhere and shifting 50 degrees in seconds, with Maserati pushing us all the way. The big gennaker stayed up and we had to put in a few big bare aways to avoid capsize. With the strange wind direction we had to really think on our feet. It was an amazing race with Maserati though and we got away several times, but they always caught us up. Right near the start they went blasting past us flying through the air, hooting and hollering and waving at us. That is what they had come for and they have learnt a lot about foiling a MOD."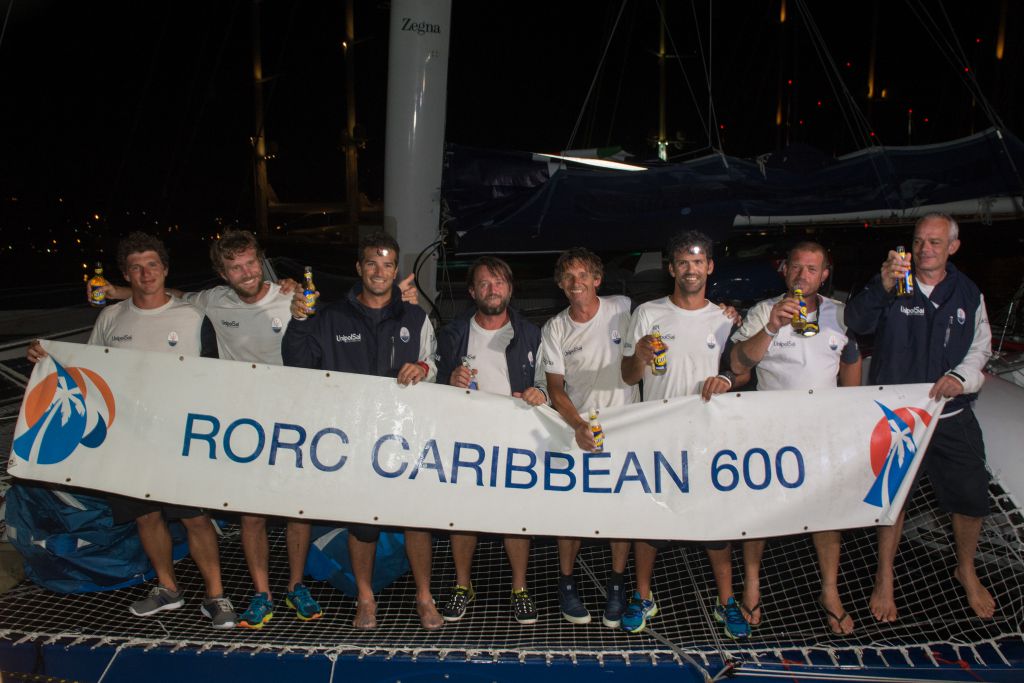 Maserati crew: Giovanni Soldini, Guido Broggi, Francesco Malingri, Vittorio Bissaro, Carlos Hernandez, Oliver Herrera, François Robert, Matteo Soldini © RORC/Ted Martin
Maserati skipper, Giovanni Soldini was full of praise for both his Maserati team and their rivals Phaedo3. The Italian MOD70 has an experimental foil enabling them to literally fly when the boat is on starboard, but not when they are on port, enabling them to give Phaedo3 a really close fight.
"Phaedo are a very, very good team. They have known the boat for many years, whereas we are just beginning to get to know ours. We really flew a few times and we were able to play with Phaedo and I am really pleased with my crew as they were fantastic. At the start of the last leg, we were just a minute behind. We have learnt a lot by racing with Phaedo and so we are improving our performance. Our dream was to make a MOD70 fly and in a couple of months we will have foils on both sides and life will be much more simple."
Maserati's race was not without incident. "When we were past La Desirade we caught a buoy on the rudder but we didn't realise until near Barbuda," explains Soldini. Carlos Hernadez heroically jumped into the water when it was blowing 20 knots and the boat would not stop, so he had to swim very fast!"
George David's American Maxi Rambler 88 is expected to take Monohull Line Honours for the 2017 RORC Caribbean 600 at midday today local time (1600 UTC). At dawn on Day Three of the RORC Caribbean 600, Hap Fauth's Bella Mente was winning the battle of the Maxi72s approaching Barbuda. Bella Mente holds a two mile lead from 2016 RORC Caribbean Trophy holder, George Sakellaris' Proteus, and is estimated to be top of the leader board overall under IRC.
Simon & Nancy De Pietro racing C.n.b. Briand 76, Lilla are approaching Guadeloupe and are estimated to be leading IRC One by a slender margin from Theodore Kane, Jr's Swan 66 Bounty. Three yachts are in a close battle for victory in IRC Two. Dominic Hurndall's Grand Soleil 43, Jua Kali has taken the normal route on the downwind leg to Guadeloupe. However Ross Applebey's Scarlet Oyster and Ed Fishwick's Redshift on El Ocaso passed Montserrat to port. After IRC time correction, there are just seconds separating the three yachts after 330 miles of racing. In IRC Three, Jonty Layfield's Swan 48 Sleeper X is enjoying a comfortable lead after IRC time correction and by 22 miles on the water from Andy Schell & Mia Karlsson's swan 48, Isbjorn. Peter Hobbs' Sigma 38, Sam is approaching the halfway stage in the race and is estimated to be in third in class.
A close battle is raging in the Class40 Division as the three leaders approach the wind shadow of Guadeloupe with barely a mile separating them. Catherine Pourre's Eärendil is just ahead of Peter Harding's Phor-ty and both team have chosen to take a line close into Guadeloupe. Halvard Mabire and Miranda Merron's Campagne de France has chosen to go offshore by approximately 8 miles.
In the battle of the schooners, the 182ft Adela, skippered by Greg Perkins is rounding Iles des Saintes with 220 miles to go. The 162ft schooner Eleonora, skippered by Brendan McCoy is 44 miles behind Adela on the water.
---