Wouter Verbraak will be navigating Grant Gordon's 72ft Maxi Cruiser, Louise for the RORC Caribbean 600. Wouter has competed in the Barcelona World Race, the Volvo Ocean Race on numerous occasions and is Head of Sevenstar Racing Yacht Logistics.
The 2017 edition can be summed up with "It's normally not like this." Whereas most years have seen moderate to strong trade winds, this year the weather is dominated by a front that extends very far south reaching the race course.
The second feature is the development of a secondary low along the front. Where the usual high pressure system creates a good pressure gradient between itself and the general low pressure in the Doldrums, now with the low pressure dominant, the trades have nothing to drive them.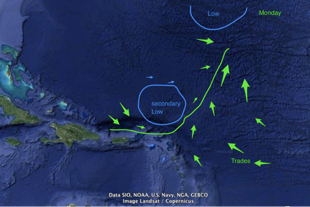 These two features will dominate the weather for the race. On Monday the formation of the low pressure system to the north of the front is disturbing the trades, shifting them right to SE and reducing the speed. So for the start we are looking at a SSE 9-12kts flow which then rotates further right and decreases as the front approaches from the north.
The progression of this front is still a bit uncertain with the different models showing it reaching the fleet sometime between Monday and Tuesday night, maybe Tuesday morning. The front doesn't look to be too active, but the models do show a considerable amount of rain with it.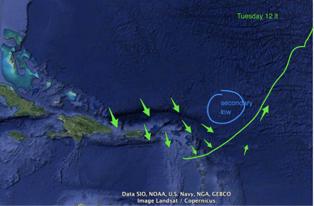 Behind the front on Tuesday, the winds are from the WSW and are increasing and rotating right to the NW and increasing to 15-20kts by the evening. As the front moves south and the secondary low moves away NE, the flow looses its strength and winds are gradually decreasing to 10-15kts and rotating right to NNE by midnight into Wednesday.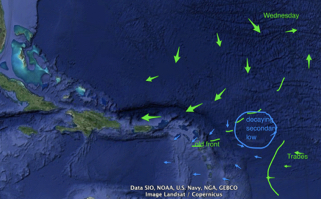 Wednesday will be a difficult day for the wind as the flow behind the front has faded and there is a slow transition between the NW flow and the restoring of the trades. For this build in the trades the high pressure needs to build up again and with the remains of the secondary low hanging around, this is a difficult process. We can expect the winds to be very light as they slowly rotate right to east.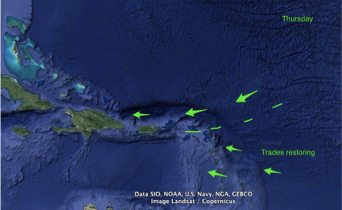 Although we might get a sniff of the tradewinds on Thursday morning, the real established flow is forecast to only reach us in the afternoon. Winds then eventually build from the ESE and are back at a more healthy 12-15kts by Friday morning.
The 2017 RORC Caribbean 600 starts at 1100 on Monday 20th February 2017. To keep up to date with all the news and to follow the race. www.caribbean600.rorc.org
---