Lloyd Thornburg's MOD70 Phaedo3 Breaks RORC Caribbean 600 Multihull Record
Hurtling around the Caribbean at speeds in excess of 30 knots and topping out nearer 40, often barely a boat length apart, the epic duel between MOD70s Concise 10 and Phaedo3 came to a conclusion after 32 hours of hot racing. Lloyd Thornburg's MOD70 Phaedo3, co-skippered by Brian Thompson crossed the finish line at Fort Charlotte in an elapsed time of 31hours, 59minutes, 04seconds, breaking their own multihull race record set last year by 1hour 34minutes 26seconds.
Barely out of sight of each other the entire race, Tony Lawson's MOD70 Concise 10, skippered by Ned Collier Wakefield was just 9mins 52seconds behind. The superyachts in Falmouth Harbour heralded the arrival of Phaedo3 and Concise 10 with a cacophony of horns as hundreds of race fans gathered dockside to cheer the two teams to the dock.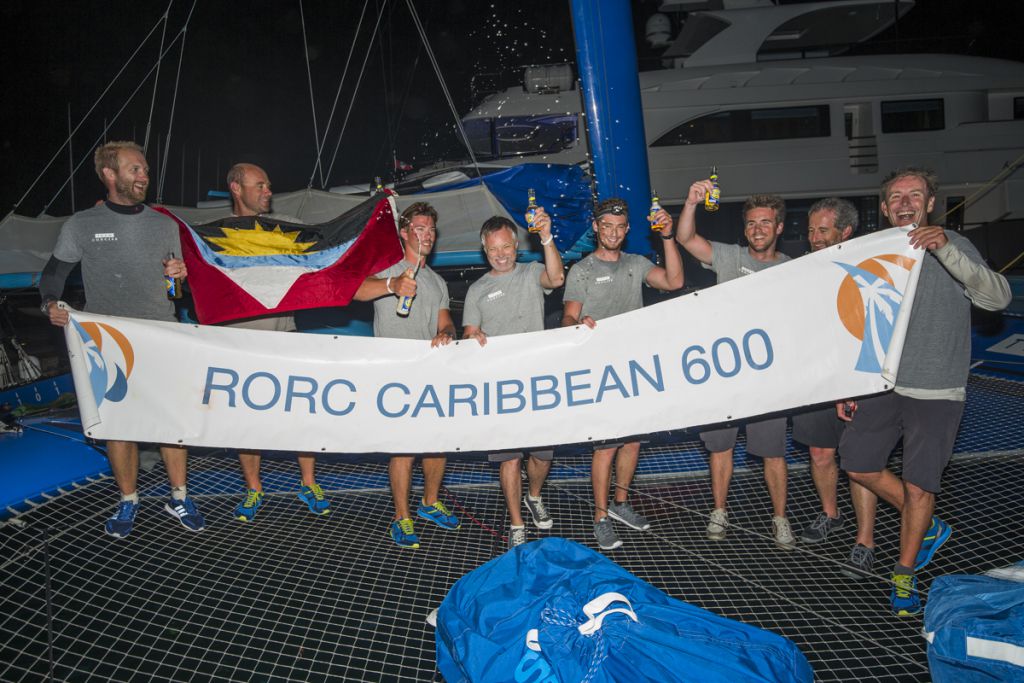 Team Concise arrive at the dock after finishing just 9minutes and 52 seconds behind Phaedo3 © RORC/Emma Louise Wyn Jones
Lloyd Thornburg, Owner/Skipper Phaedo3: "Since we set the record last year we have got a lot better; our manoeuvres are improved and we are sailing a better course. We made a few mistakes out there which we will correct next time but this is the best group of sailors I have sailed with. There is nobody I would rather sail with than this group of guys; I am so happy. We weren't thinking about the record at any stage because we were so focused on match racing Concise. We had to dig deep and they were doing the same and they gave us a hell of a race. We were nervous and never comfortable."
Pete Cumming Phaedo3 Trimmer: "Upwind we were struggling to answer some of their questions. They were higher and faster than us and no matter what we did we found it hard to match them, but by the last beat we had figured it out. But they gave us a big scare because if you find a speed edge in these boats it is not a fraction of a knot, it is more like two knots. Those guys are getting faster all the time, they are smart guys and they put up a good fight and we will need to keep upping our game."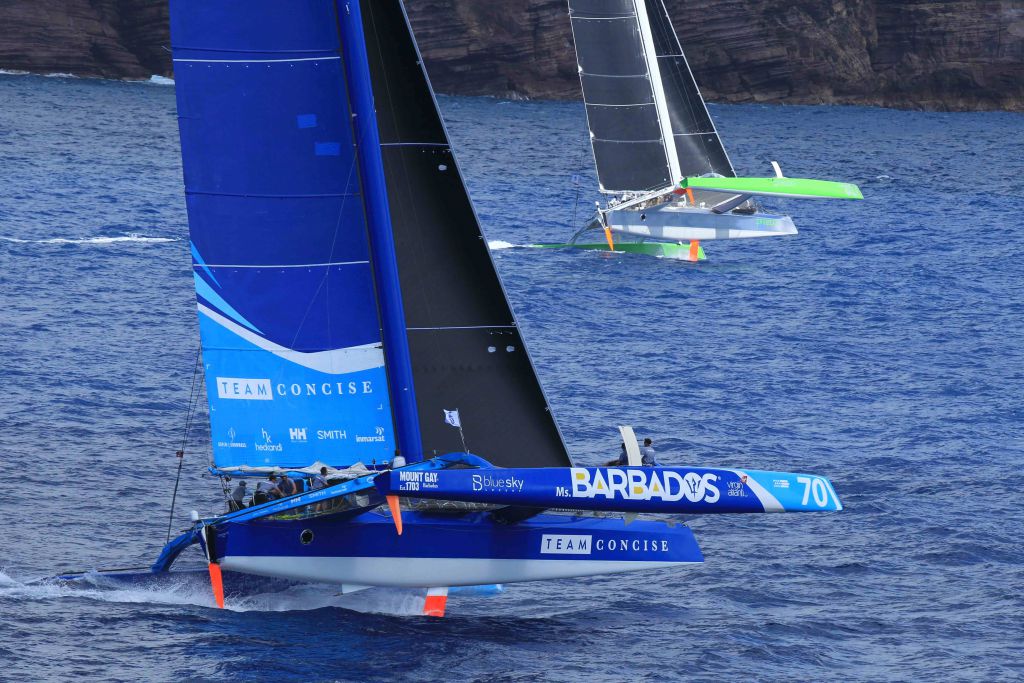 Lloyd Thornburg's MOD70 Phaedo3 and Tony Lawson's MOD70 Concise 10 at the start of the RORC Caribbean 600 Race © RORC/Tim Wright
Brian Thompson Phaedo3 Co-Skipper: "I didn't know we had broken the record until we had crossed the line. Breaking the record by over an hour and a half just shows you that we have come along and improved because the weather was lighter this year. Also with the help of our fellow competitor Concise, they pushed us really hard, so we went even faster than last year. The Phaedo Team is so much more improved than last year and that includes Lloyd who is now a really good helmsman. He did the start, the first beat and much of the race. He is a superb driver and this is a tricky boat to sail. This is a great win and to come back to this crowd is special for me because I grew up sailing in Antigua and I have seen it develop, so to have all the horns blaring on arrival was a magic moment."
Michel Desjoyeaux, Concise 10: "The level of sailing of Team Concise is pretty good. They have only been sailing the boat for six month and they are learning very fast. So we have been working on some special functions and tasks, including sail trim and balance of the boat. Phaedo3 won the race, congratulations to them, but we had some opportunities to close the gap which we took but it was not enough. It was a good contest and if you don't want to be part of that, then you shouldn't race.
Ned Collier Wakefield, Skipper Concise 10: "That was a brilliant race but also a frustrating result. They have a downwind mode that we haven't got and vice-versa upwind. We certainly learnt a lot and it was great sailing with Michel (Desjoyeaux), so lots to learn from this. We did 600 miles in 31 hours and we are still in shorts and t-shirts – a bit damp, but it has been fantastic! These boats are absolutely incredible, amazing machines; to chew up the miles like that and be back for beers on the second day is unbelievable. Many thanks to the RORC for laying on a great race and thanks to all of the people that support us."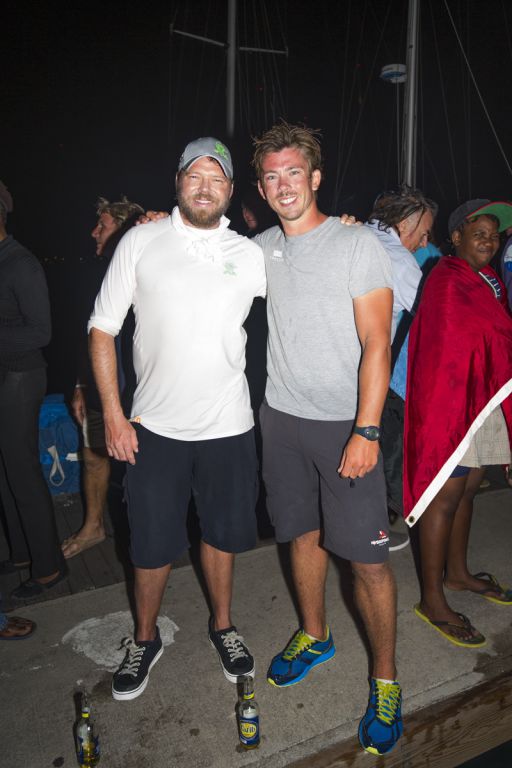 Phaedo3 owner and co-skipper Lloyd Thornburg with skipper of Concise 10 Ned Collier Wakefield © RORC/Emma Louise Wyn Jones
Phaedo3 Crew: Lloyd Thornburg (Owner/Skipper), Brian Thompson (Co-Skipper), Miles Seddon, Robert Greenhalgh, Sam Goodchild, Paul Allen, Pete Cumming, Damian Foxhall.
Concise 10 Crew: Ned Collier Wakefield (Skipper), Thomas Dawson, Michel Desjoyeaux, Paul Larsen, Jonny Malbon, Tom Smedley, Martin Watts, Jackson Bouttell.
---