Lloyd Thornburg's MOD 70, Phaedo3 crossed the finish line of the 7th edition of the RORC Caribbean 600 at 20:35:30 AST on 24th February 2015 in an elapsed time of 1 day, 9 hours, 35 minutes and 30 seconds.
Phaedo3 has broken the multihull race record set by Claude Thelier and John Burnie's ORMA 60, Region Guadeloupe by 6 hours, 35 minutes and 35 seconds.
"Fast, really fast," commented a shattered looking Lloyd Thornburg as Phaedo3 tied up in Falmouth Harbour. "Sailing with Michel Desjoyeaux has been an incredible experience. When I was driving, he pushed me out of my comfort zone and then got the guys to wind on the sails even more and the speed just kept climbing and my confidence and experience with it. Surfing at over 30 knots for hours is just an incredible experience. A big thank you to Brian Thompson for putting this all together in such a short period of time. This is right up there; a totally amazing experience!"

Jules Verne record holder, Brian Thompson spoke dockside: "We only left France two weeks ago so this has been a whirlwind preparation for the race, but I always knew that a MOD70 would be an absolute weapon on this course and what a welcome when we arrived; the superyachts blasting their air horns and hundreds of people on the dock making a lot of noise. It was like finishing the Vendee Globe!"

Michel Desjoyeaux has never done the RORC Caribbean 600 before: "I had never heard of this race before, but it is a great course for multihulls and I hope to be back. It would be even better if there were a number of multihulls racing, that would make it really special. As we rounded Redonda, I saw some yachts heading for Guadeloupe, they were only half way to the finish and I thought about the Figaro teams who have so far to go - aaaagh! - That must be hard for them."
Hundreds of spectators packed the dock on Falmouth Harbour, Antigua with the party continuing well into the night to celebrate Phaedo3's magnificent achievement.
The crew of Phaedo3: Lloyd Thornburgh (Owner), Romain Attanasio, Samuel Bason, Pete Cumming, Michel Desjoyeaux, Warren Fitzgerald, Sam Goodchild and Brian Thompson.
Rambler 88 takes Monohull Line Honours
George David's Juan K designed Rambler 88 was the next boat to finish, at 06:35:12 AST on 25th February 2015, taking Monohull Line Honours for the RORC Caribbean 600. Rambler 88 was approximately four hours short of the monohull race record, set by George David's Rambler 100 in 2011.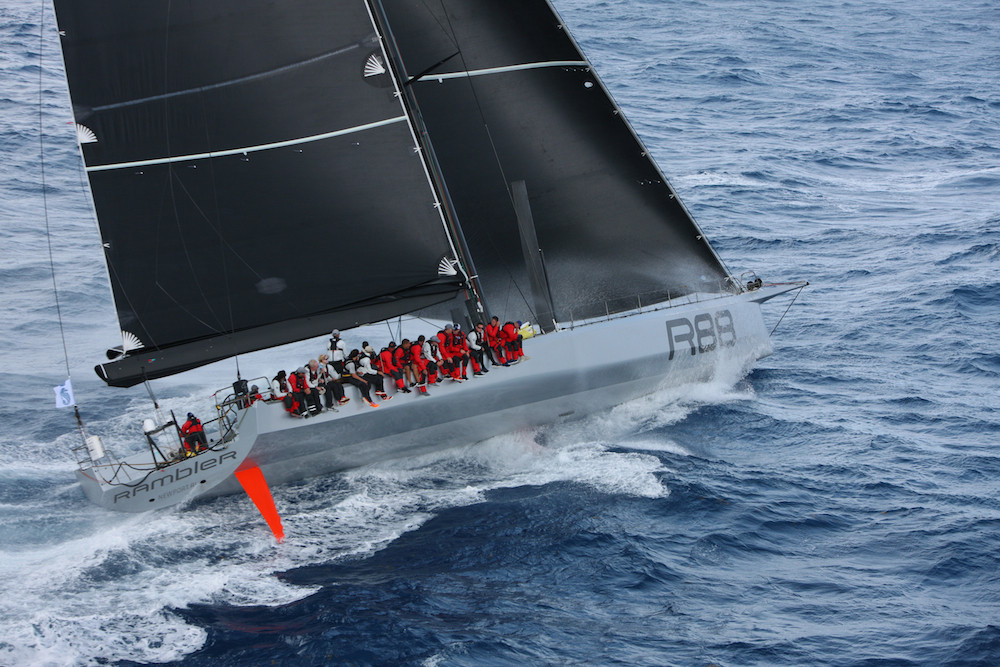 As with every competing yacht in the RORC Caribbean 600, Rambler 88 was met at the dock with a big cheer and cold beer by the Antigua Yacht Club volunteer team. George David, commented dockside.
As with every competing yacht in the RORC Caribbean 600, Rambler 88 was met at the dock with a big cheer and cold beer by the Antigua Yacht Club volunteer team. George David, commented dockside. "Rambler 88 was ahead of the monohull race record for some time, but the wind angle on the long leg to Guadeloupe was tighter than in 2012. Back then in Rambler 100, we were reaching, hitting a speed of over 20 knots, but this year that wasn't possible due to the wind angle. Rambler 88 is probably faster on every point of sail than the previous Rambler, but the weather really didn't work for us this year. Rambler 88 is an exciting boat to race, powerful and really wet on deck. We have moved a step closer to harnessing that power and the wet conditions are easily managed with good foul weather gear! A special course and a very well organised race. The RORC should be congratulated once again for producing a great event."

Multiple America's Cup winner and Rambler 88 tactician, Brad Butterworth spoke dockside: "This is the first time I have done this race and it is an interesting course from a tactical and navigational point of view. The islands are really beautiful but we didn't get much time to appreciate the scenery. However, apart from a few minor breakages, the boat has stood up very well and the different wind speeds and wind angles on this course have given us a lot of data and ideas which will go towards improving our performance. We have a big season planned and we have the potential to have a great 2015."
The crew of Rambler 88: George David (Owner), Rodney Ardern, Silvio Arrivabene, Stuart Bannatyne, Scott Beavis, Curtis Blewett, Brad Butterworth, Simon Daubney, Wendy David, Jan Dekker, Brian Giorgio, Nathan Hislop, Brad Jackson, Jerome Kirby, William McCarthy, Artie Means, Robert Naismith, Mark Newbrook, Dean Phipps, Andrea Visintini, Matthew Welling, Stuart Wilson.
For more information
Race Website: Follow the race website http://caribbean600.rorc.org
There will be news stories, blogs from the race course, images, video and daily race reports. Follow all the action as it unfolds on the RORC Caribbean 600 website.
Social Media:
Follow the race on: https://www.facebook.com/RoyalOceanRacingClub
Twitter: Follow @OffshoreOne '#rorcrc600'
Track the Fleet:
Every yacht is fitted with a YB Tracker and their progress can be followed on the race website:
http://caribbean600.rorc.org/blog/race-information/tracking/index.html
---