0700 AST 26th February 2015
By the morning of Day Four of the RORC Caribbean 600, 19 yachts had completed the race and 43 yachts were still racing. Last night the lighter southerly wind had switched back to an easterly direction with substantial cloud activity providing changeable conditions for the competitors. The wind speed was steadily building and squall activity provided sudden exponential increases in the wind speed and a variable wind direction.
In the IRC Canting Keel Class, with all yachts accounted for, George David's Juan K designed Rambler 88 has scored the best corrected time. Mike Slade's Farr 100 Leopard, sailed by Chris Bake's Team Aqua, is in second place with Ron O'Hanley's Cookson 50, Privateer in third.
In IRC Zero, three yachts are still racing but Hap Fauth's JV72, Bella Mente is the provisional winner of the class with Peter Harrison's TP52, Sorcha second and True, Doug Baker's Kernan 47, third. These three yachts also dominate the provisional overall ranking under IRC with Bella Mente currently leading the fleet, Sorcha second and True third respectively.
The story of the night was the battle on the water between Sorcha and Tonnerre 4. They finished the race late last night and both crews were utterly exhausted after an intense match race around the 600 mile course.
Sorcha's skipper, Campbell Field, spoke dockside:
"A tough race but thoroughly enjoyable. Racing around the Caribbean in a TP52 is like attaching a 500 HP outboard to a surf board. Everything and everybody gets a full soaking, even down below there is no respite from the drenching but this is a great crew with a fantastic spirit and we have all enjoyed the race immensely. The battle with Tonnerre was just the icing on the cake that is some of the best racing I can remember. I think, all in all, we won't find many areas that we could have made a lot of time up, so we have to be satisfied with our performance. If the weather had been slightly more in our favour, who knows, we might have won the race overall."
Tonnerre 4 stalwart, Frank Gerber was also full of praise for the crew:
"This was the first time we had even sailed the new Ker 51 at night, so we have been on a steep learning curve for this race but what an amazing battle with Sorcha. The first 24 hours were just epic. With Paul Wilcox on the helm we hit 25 knots of boat speed on the way up to Barbuda, there was just water everywhere and the rush was thrilling. After Barbuda we were locked in a gybing battle with Sorcha for the downwind leg to Nevis. Two fast yachts surfing at each other at closing speeds of 40 knots, gybe after gybe after gybe, that is thrilling in anybody's book. Sorcha have a great crew and sailed their boat just that little bit better than us and we applaud them for that but we have learnt so much about Tonnerre 4 and we will be able to up our game for our next race."
The 182ft twin-mast schooner Adela, dating back to 1903, finished just before midnight winning the Superyacht and Spirit of Tradition Classes, placing sixth in IRC overall and fifth in IRC Zero, an incredible performance that skipper Greg Norwood-Perkins was rightly proud of:
"An IRC weapon!" laughed Greg, dockside. "Adela competes in numerous bucket-style short course racing and it is there that we hone our boat-handling and maximize our boat speed - this course demands impeccable manoeuvres from the crew. The owner is really thrilled with the performance of Adela and is full of encouragement, even though we put Adela through enormous stress loads. I am so proud of the crew, most of whom have been racing Adela now for many seasons. It takes every sinew of muscle and brain-power to sail her to the maximum, our sail configuration is complex and everyone has to be at the very top of their game. Tomorrow, we will celebrate our traditional lunch with a bottle of wine for every sail change. It is an unusual method of motivating the crew for every sail change we do and it will be a long and well deserved celebration of an excellent performance."
In IRC One only one yacht has successfully completed the 600-mile race. William Coates' Texan Ker 43, Otra Vez, has set the bench mark for the class, which will be difficult for the remaining 14 yachts in IRC One to beat. Jose Diego-Arozamena's Farr 72, Maximizer, should be the next yacht to complete the course followed by James Blakemore's Swan 53, Music.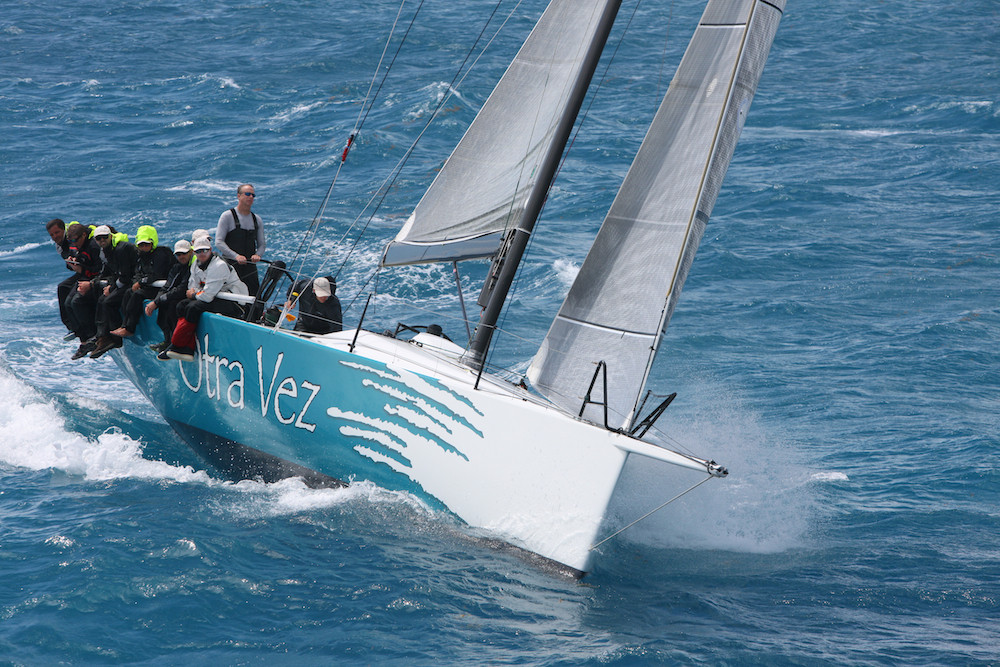 Seven yachts are still racing in IRC Two. On the water Ross Applebey's Oyster 48, Scarlet Oyster, holds a slender 3-mile lead over Andy Middleton's First 47.7, EH01. Lucy Reynolds' Swan 51, Northern Child is ten miles astern of the leader but after time correction is virtually tied for second place with EH01. This morning the three leading yachts were approaching Barbuda, preparing themselves for a big gybe in freshening breeze to head for Redonda and the last leg of the course, the gruelling 30 mile beat to finish. All three yachts are expected to finish the race this evening.
Seven yachts are still racing in IRC Three. The provisional class leader is Peter Schofield's HOD 35, Zarafa, crewed by servicemen from the King's Royal Hussars and the Queen's Royal Lancers. However Zarafa is not leading on the water, the remarkable Two Handed French team racing JPK 10.10, Raging Bee is ahead by less than a mile after 465 miles of racing. Raging Bee skipper, Louis-Marie Dussere explained the unusual name of the yacht, the winner of the Two Handed Class for the 2014 RORC Season's Points Championship.
"The bee was a symbol used by Napoleon Bonaparte in his campaigns because a bee is both a team player and a ferocious fighter - so we like this imagination for our boat! I raced Raging Bee here two handed and the RORC always provide well managed events, so taking part in the RORC Caribbean 600 was an easy choice."
IRC Three is producing probably the closest competition of any of 11 separate classes racing in the RORC Caribbean 600. After 70 hours on the race track, there is less than one hour separating the top four yachts after time correction. Zarafa leads by just 25 minutes from Raging Bee with Ed Fishwick's Sunfast 3600, Redshift is third and Valerio Bardi's Swan 46, Milanto, fourth.
Race Website: Follow the race website http://caribbean600.rorc.org
There will be news stories, blogs from the race course, images, video and daily race reports. Follow all the action as it unfolds on the RORC Caribbean 600 website.
Social Media:
Follow the race on: https://www.facebook.com/RoyalOceanRacingClub
Twitter: Follow @OffshoreOne '#rorcrc600'
Track the Fleet:
Every yacht is fitted with a YB Tracker and their progress can be followed on the race website:
http://caribbean600.rorc.org/blog/race-information/tracking/index.html
---