Focus on: Aegir II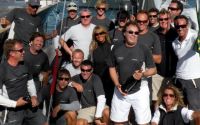 As we run down to the start of the RORC Caribbean 600 in February 2011 we are highlighting a number of interesting boats that are competing in the race starting with Brian Benjamin's Carbon 82:
Designed by Simon Rogers and constructed entirely from pre-preg carbon, in race-mode
Aegir II
is designed to have a racing displacement of 32 tonnes and VPP analysis suggests an upwind speed of 10.5 knots and capable 20 knots downwind. The Carbon 82 with elegant lines has a three spreader carbon rig towering 35 metres above the deck giving some serious horse-power and a masthead asymmetric kite of a whopping 650 square metres.
The RORC Caribbean 600 will be the first race for Brian Benjamin's latest magnificent racing yacht, the Carbon 82
Aegir II
and his stellar race crew who have already proved their mettle by winning their class at the Rolex Maxi Yacht Cup in September.
"The RORC Caribbean 600 is a spectacular race course, it is just the kind of racing I want to do; beautiful scenery, a wonderful race track and great company, it just ticks every box," commented Brian Benjamin. And the boat: "A Beauty and a beast," said Brian. "An enormous amount of time and effort has gone into refining
Aegir II
, to deliver immense power and performance but also a yacht that can be cruised in style. Simon Rogers has delivered a magnificent design and Carbon Ocean Yachts have been meticulous in the build programme.
"I am delighted to say that the yacht's first duty will be as a wedding carriage for my daughter's honeymoon. The first time Aegir II will be raced will be in February, competing in the RORC Caribbean 600. I can't wait to put her through her paces, on a race course that will really show her true potential."